Posted on January 23, 2017, by Travis Pulver
For the Pittsburgh Steelers to record a win over the New England Patriots in the AFC Championship game, they could not afford to make many (if any) mistakes. They couldn't afford to have any part of their game falter. They had to be at their best. They needed all their superstars to play better than ever and for everyone else to play like superstars.
Well—it didn't happen and the Patriots beat the Steelers with ease, 36-17.
Superstar running back Le'Veon Bell ended up lasting one play into the second quarter before his day was done with what was later revealed to be a groin issue he has been dealing with for some time. He would not say how long it has been an issue after the game; just that he has been trying to deal with it.
"Yeah. I've been trying to micromanage it through the whole thing, just trying to keep it to myself and not trying to scare anybody," Bell said after the game. "Today, it just kind of broke the camel's back, and I couldn't go."
When he couldn't do what he has become known for, he knew his day was done.
"I saw the seam and couldn't hit it," he said. "It was like I was running 50 percent out there. At that point, I knew I couldn't go. I was holding the team back."
After watching Bell destroy the Miami Dolphins (167 yards) and the Kansas City Chiefs (170 yards), the Patriots defense had to be relieved to see Bell on the sideline. They had no trouble limiting Bell's back-up, DeAngelo Williams (14 carries, 34 yards) but failed to hold him out of the end zone.
It would end up being Pittsburgh's only touchdown of the night. The Steelers offense would get within striking range one more time when it had first and goal from the New England six-yard line. Ben Roethlisberger's pass on fourth down from the two-yard line wasn't even close.
"At times, it almost felt like it was too big for some of the young guys," Roethlisberger said following the game. "Sometimes it's just one play here and one play there. Tonight we didn't make those plays. Was it too big? … I don't know. We need to make every single play in a game like this against an opponent like this."
Without a running game, the Steelers were forced to rely on the pass. The Patriots knew this, and since Bell was already out of the game, they focused on neutralizing Antonio Brown—and they did (seven receptions, 77 yards). Roethlisberger was forced to look to his other receivers, but their youth and inexperience showed as they dropped several passes.
Ben Roethlisberger ended up completing 31 of 47 attempts for 314 yards, a touchdown, and one interception in the fourth quarter.
The Steelers defense, which had improved significantly over the course of the season and had been playing lights out during the playoffs, looked pedestrian against the Patriots. They did a decent job against the running game holding LeGarrette Blount to 47 yards and a touchdown on 16 carries. His best carry was emblematic of how the game went.
Late in the third quarter, he took a handoff from Tom Brady at the Pittsburgh 19-yard line. He should have ten-yard around the ten-yard line, but even though he was surrounded by Steelers, he managed to bulldoze his way to the one-yard line. He got to finish the drive off on the next play and extend the lead to 27-9.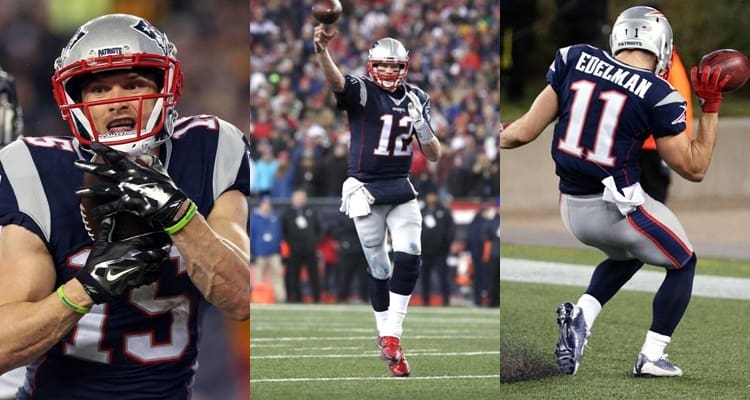 Brady appeared to be able to find Chris Hogan and Julian Edelman whenever he wanted to. Hogan ended up setting a new franchise record with nine receptions for 180 yards and two touchdowns. A week after completing less than half his passes against the Texans, Brady completed 32 of 42 passes for 389 yards and three touchdowns.
"We won a lot of different ways under a lot of different circumstances," Brady said. "Mental toughness is what it is all about, and this team has got it. We'll see if we can write the perfect ending."
The Patriots will have to figure out how to control Matt Ryan, Julio Jones, and the rest of the Atlanta offense to write that perfect ending in Super Bowl LI.