Posted on November 24, 2016, by Travis Pulver
When the Washington Huskies were left out of the top four of the first CFB Playoff Committee Poll, the fans were outraged. But then Texas A&M lost, the Huskies took over the No. 4 spot, but then lost to USC. Now they are on the outside looking in once again (No. 5) but have a shot to earn their way back into the top four.
No. 2 Ohio State and No. 3 Michigan play Saturday. The winner will lock up a spot in the top four; the loser will (should) fall out of the top four—which will leave a door open for Washington to walk through. That is if they can beat their longtime rival–the Washington State Cougars.
When the two play Friday afternoon it will be the 109th meeting between the two schools in what has become known as the Apple Cup. History has favored the Huskies (70-32-6) who have one the last three in convincing fashion (by 10, 18, and 35 points).
With how Washington has played this year, many will pick the Huskies to win big again, but the Cougars are not bad. Luke Falk is one of the best passers in the country, has an excellent target in senior wide receiver Gabe Marks, and a decent running game whether it's Jamal Morrow, James Williams, and Gerard Wicks lining up in the backfield.
There is a reason why the Cougars are ranked No. 23 by the Committee—these guys can play. Besides, when it comes to your rival, things like records go out the window. If there is one game, everyone finds a way to up their game for, it's their rival.
Because if there is one game you must win; one game that can make a bad season a good one and a good one great—it's the one against your rival. The Cougars would love nothing more than to put the nail in the coffin of the Huskies playoff hopes.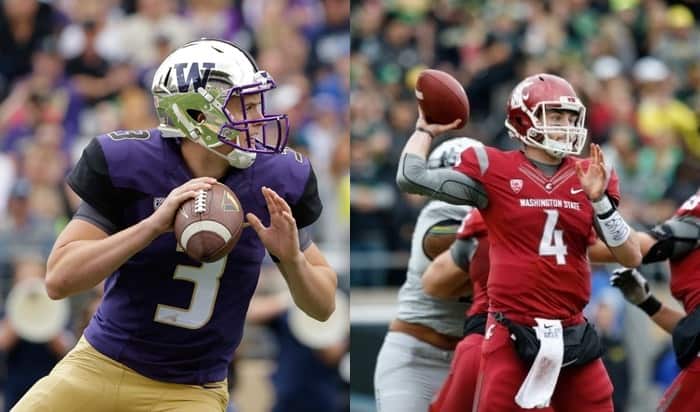 But it probably isn't going to happen.
The Cougars have an incredible passing attack—but that's about all they do well (and it will not be easy against a good Washington defense). They have three good running backs, but they don't use them enough for the running game to make much of an impact. But when you score 42.5 points/game it doesn't matter how they come. It just matters if your defense is good enough to stop your opponent at least a couple of times.
However, when your defense is not very strong—especially against the pass (114th)—the odds you'll be able to stop an offense like Washington's are slim.
Jake Browning is one of the best quarterbacks in the nation. He deserves Heisman consideration this year, and he and sophomore running back Myles Gaskin will be Heisman contenders next season. There aren't many wide receiver combos as dangerous as John Ross and Dante Pettis. Together, they can beat you through the air (29th; 273.9 yards/game) or on the ground (38th; 208.8 yards/game).
Oh—and they can put up some serious points, too (44.7 points/game).
If Washington State is going to win, they will need their defensive linemen to have the game of their lives. They need to put as much pressure on Browning as possible. The Trojans did a couple of weeks ago, sacked him three times, and held him to just 259 yards and a single touchdown (only game this season he didn't throw multiple touchdown passes).
The Cougars can't count on their offense outscoring the Huskies to win. They will need to stop Washington's offense, and the best way to do that is to pressure Browning and get him off his game. But they must do so without creating running lanes for Myles Gaskin. USC managed to do it, but their defense is a lot better than Washington State's.
They will make a game of it, but the Cougars are undermanned, and the Huskies want back in the playoff hunt. Maybe next year Cougars–because this year the Huskies will not be denied.