Posted on January 23, 2017, by Travis Pulver
Adam Jones had done it. He had succeeded in doing something that many had tried to do, but precious few have ever succeeded at doing. He managed to rebuild his career and become a productive member of the Cincinnati Bengals after countless idiotic and often criminal mistakes threatened to destroy it.
But the ride is probably done for Pacman Jones. At his age and salary, and after his recent incident with police, it would be surprising if the Cincinnati Bengals were to hold onto him.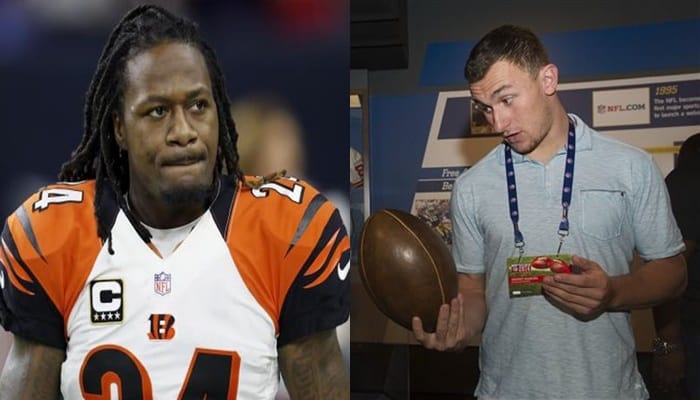 Back in January, Jones had been arrested after police had been called to a hotel where he had been banging on doors. When hotel security was called to the scene, he became combative which prompted a call to police.
He became even more aggressive when police arrived on the scene and as eventually arrested and charged with felony harassment with a bodily substance, assault, disorderly conduct and obstructing police (Cincinnati).
Upon his release, Jones vehemently denied any wrongdoing and swore that the video would vindicate him. Well—the video has now been released, and it certainly doesn't do him any favors.
TMZ obtained the video from the police car, and it shows Jones being verbally abusive towards the officer and appeared to be trying to intimidate him.
But according to him the day after his arrest, he did nothing wrong.
Fans have been more critical of teams and players after incidents such as this; especially if the player has an extensive track record like Jones does.  But if a player is talented enough, teams have been known to do whatever they can to ride the storm and get past it—unless a video exists.
Jones had become a productive member of the Cincinnati Bengals since they decided to take a chance on him back in 2010 with a two-year, $1.185 million deal. They liked what they saw enough to give him a one-year deal for $925,000 in 2012 and a three-year, $5.35 million one in 2013.
After several years of playing well, staying out of trouble, and even speaking to rookies about the pitfalls of life in the NFL, the Bengals decided to reward him for his play and overall value to the team with a three-year, $22 million contract last March.
But at 33 and with a base pay of $6.3 million next season, his latest incident will it make it easy for the team to make him a salary cap casualty.
Jones was proof that a player could rehab not only his image, but his personality to the point where he could become a useful, productive player in the NFL. The Bengals could choose to keep him, but with the video making the rounds online and his high base it would be a surprising move on their part.
But he is proof that a player can turn it around and still have an NFL career despite getting off to a rocky start. He just needed one team to believe in him, which is exactly what Johnny Manziel is hoping for.
The former Cleveland Browns quarterback is back in the news after admitting to his faults on Twitter and talking about making a comeback. He has joined forced with quarterback guru George Whitfield and even deleted his Twitter account so that it wouldn't distract him.
But not before sending one last truly epic tweet—to President Donald Trump—with a little advice about social media:
"Yo POTUS Even I know to stay away from the notifications section on Twitter. [Expletive] will drive you crazy, lead the country and let them hate."
"Control what you can control and let the rest fall by the wayside."
If you are going to go out, you might as well go out with a bang–right? Many will try to say the tweets are proof that he is still the same old Manziel, but we will not know that until he returns to Twitter (if he does).