Boston College vs. Georgia Tech at Aviva Stadium in Dublin Ireland.
College Football is crossing the pond and heading to Dublin, Ireland a country that is known for Rugby and Soccer more so than American Football. As soon as you land at the Dublin airport you will be greeted by this banner below showcasing the Yellow Jackets  playing in the Aer Lingus College Football Classic.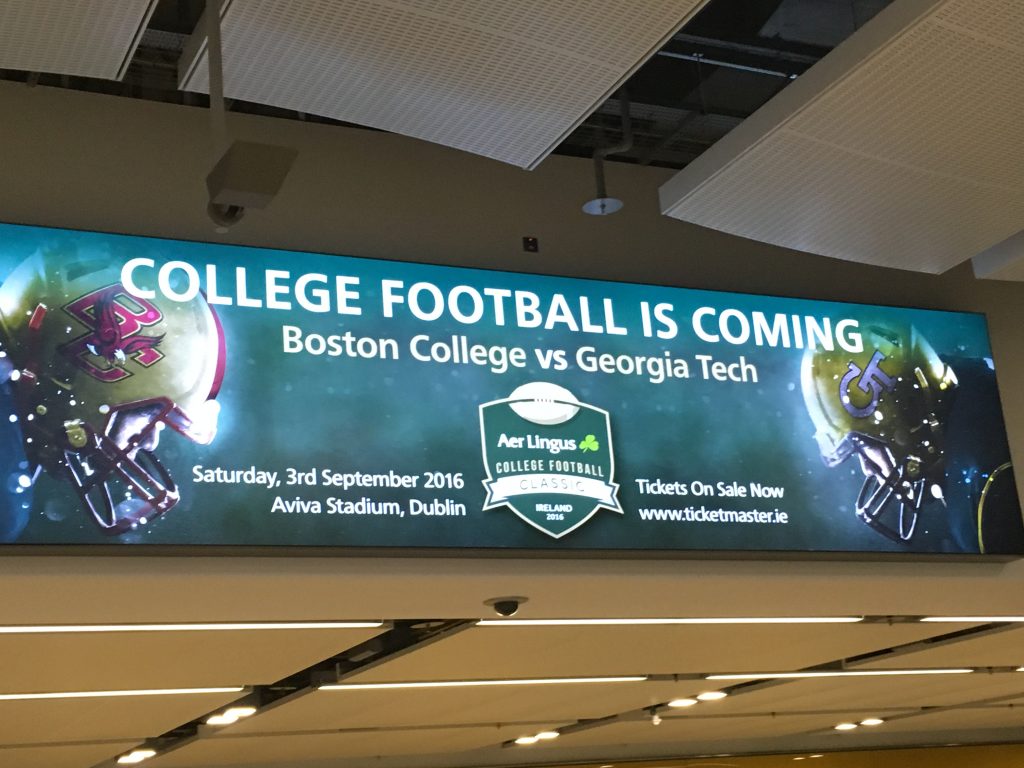 For those who like to bet on games know that there are a lot of great opportunities created with these international games. The turf at Wembley Stadium is not designed for American Football and created a huge betting opportunity where we made hundreds of thousands of dollars last year. The same research we are conducting now to see about the betting opportunities for the Ireland match up on 9/3/2016.
The stadium has a capacity of 48,000 and tickets are currently on sale in the United Kingdom and Ireland. the last 5 games played abroad have been the 2014 Penn State vs. UCF, 2012 Notre Dame vs. Navy, 1996 Notre Dame vs Navy, the 1989 Pittsburgh vs Rutgers and the 1988 matchup of Boston College vs Army. The betting odds on the game are Georgia Tech – 3 Points but the total or Over/Under has yet to be released.
The Eagles are expected to win by a margin of 2 points as of now. For more betting tips and information sign up to work with legend Jon Price here at Sports Information Traders. One more interesting fact is that Boston College is paying Georgia Tech $900,000 to play in this game.