The analysts here are always happy when they hear about other big time sports bettors. Todays feature is on Derek Stevens of Las Vegas, Nevada. Stevens is the owner of the D hotel and one who has a knack for numbers and seeing value where others may see trash. For the 2017 March Madness tournament Stevens is betting $352,000 on the first round of games. Not betting systemically but an even $11,000 wager on every game of the first round against the spread with no straight up or moneyline wagers.
For every $11,000 wagered he stands to win $10,000 or a total of $21,000 returned for each win. A photo of his wagers is posted below: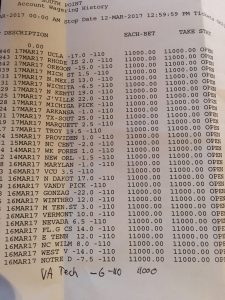 Stevens reigns from Detroit. He graduated from the University of Michigan in 1990 and earned an MBA from Wayne State in 1994. He got his start in business shortly after graduating taking over the Cold Heading Company which was a family owned and operated business that manufactures nuts and bolts for the auto industry.
A decade in a half later he and his brother worked their way out west to Las Vegas, Nevada and purchased the 51's a minor league baseball team which he later sold for $20 million dollars. Their offshoot enterprise called Desert Rock Enterprises, bought a 60% share in the Golden Gates and the now defunct Riviera Hotel & Casino. In May of 2011 he bought the Fitzgerald downtown after the owner Don Barden had passed away. After plowing $12 million dollars into renovations and labeled it the D Hotel named after Detroit. The bars are always playing Michigan teams and Derek is active betting on sports just at a rate much higher than the average sports bettor does.