Posted on December 10, 2016, by Travis Pulver
Three weeks ago, the story in the AFC South was simple. The Houston Texans were 6-3 and had a two-game lead on the 4-5 Indianapolis Colts and Tennessee Titans. If that wasn't enough for Houston fans to feel good about the future, the Texans owned the tiebreaker with both teams. But the tiebreaker will not matter if Houston's record is worse than the Colts or Titans.
Fast forward three weeks, and the Colts and Titans have moved into a tie with the Texans who have lost their last three games. With the way their offense has played—especially on the road—it doesn't look good for Houston.
Andrew Luck and the Colts would like nothing more than to knock Houston from its perch by defeating the Texans at Lucas Oil Stadium Sunday afternoon. The odds are for the Indianapolis Colts doing just that this week (Colts by 7).
The City of Indianapolis has not been kind to the Texans. Since the franchise began playing back in 2002, the Texans have only won once in Indianapolis (last season)—but the Colts did not have Andrew Luck behind center.
Houston didn't have much behind center in that game either, and they still don't with how Brock Osweiler has been playing. However, if there was ever a game that even Osweiler could shine in it is this one.
Indianapolis has not looked good on defense this season (No. 29). Their pass defense is not very good (No. 28), and this week's slate of injured players includes several from the defense (Robert Mathis, Clayton Geathers, Zach Kerr, and Patrick Robinson). They will also be without the services of the team's leading tackler, D'Qwell Jackson (suspension).
A weak unit is going to be even weaker.
The injuries are especially good news for Houston running back Lamar Miller. Chances are good the Texans will lean on him to minimize Brock Osweiler's mistakes, kill the clock, and keep Andrew Luck off the field.
Miller had his best day as a Texan with 178 total yards and a pair of touchdowns when the Colts came to Houston earlier this season. It will be a lot easier for him to have another such day with the Colts being down their nose tackle and two linebackers.
If he can, it may not matter how much Osweiler struggles. Miller may do enough to give Osweiler time to find his bearings, but the Texans can't count on making a miracle comeback like they did when the Colts came to Houston.
Texans head coach Bill O'Brien has been allowing Osweiler to go downfield more lately. Considering the injuries the Colts defense will be dealing with and the number of deep balls they've given up(43 of 20+ yards), it would not be shocking to see Osweiler take a few shots.
The only question will be whether Osweiler can connect with his receivers. He's only connected on 24 passes of 20+ yards all season (three from 40+ yards).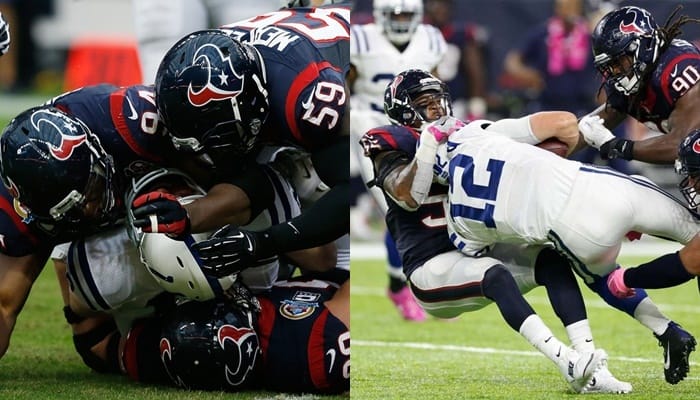 Andrew Luck, on the other hand, has been lights out on passes over 20-yards (47). He's expected to have his full arsenal of weapons at his disposal, and the Houston defense will likely be without one of its best defenders (defensive back Jonathan Joseph).
Houston's front seven will have to make sure Luck does not have the time he needs to pick the secondary apart. Jadaveon Clowney did not play last week and hadn't practiced much this week, but is expected to play. He and Whitney Mercilus will need to have big games against the second-worst offensive line in the NFL.
Indianapolis will come into the game riding a high after destroying the New York Jets on national television. Whether their confidence gets exposed as false bravado (since the Jets are terrible) or something more will depend on how bad the Texans want to remain in control of the division.
Time to stop talking the talk—but who will walk it is anyone's guess.