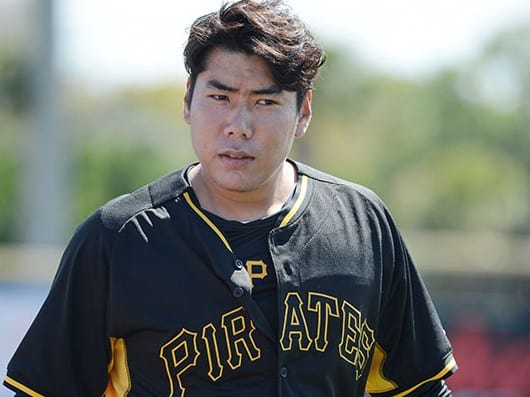 Posted on July 6, 2016 by Bryan Zarpentine
Pittsburgh Pirates infielder Jung Ho Kang is being investigated by police amidst allegations of sexual assault. The alleged incident is said to have taken place last month in Chicago while the Pirates were in Chicago to play the Cubs. The Pirates played a three-game weekend series in Chicago from June 17 to 19. Kang is being called a "person of interest" in the investigation and has not been charged with a crime at this time.
The Pirates released a statement Tuesday acknowledging the allegations. "We take allegations of this type extremely seriously. Pursuant to the Joint MLB/MLBPA Policy on such matters, this matter is exclusively before the Commissioner's Office at this time," wrote Pirates President Frank Coonelly in the statement. "We have and will continue to cooperate fully with the Commissioner's Office. As a result of the ongoing police investigation, we cannot comment further at this time. We have also advised our staff and our players that they should not comment on the matter either. We all need to be respectful to the police investigation of a very serious allegation."
Major League Baseball also released a statement to acknowledge the allegations and the police investigation. "Our understanding is that police in Chicago are investigating this very serious matter," the statement said. "Major League Baseball will monitor the progress of this investigation closely and will respond fully as additional facts emerge."
Kang, 29, remains with the Pirates. He appeared as a pinch-hitter in Tuesday's game against the St. Louis Cardinals. Kang is a native of South Korea who signed a four-year contract worth $11 million with the Pirates prior to the 2015 season.
A police spokesman says that a 23-year old woman, whose identity has not been released, alleges that she was assaulted by Kang on June 17 at the Westin Hotel in Chicago. Police say the two met on a dating app called Bumble and that Kang invited her to his hotel room. She arrived at the hotel room around 10 p.m. after the Pirates and Cubs played an afternoon game earlier that day.
The woman told police that Kang served her an alcoholic drink and that she blacked out for 15 to 20 minutes. She says the assault occurred while she was drifting in and out of consciousness, and that she did not fully realize her surroundings until she was in a cab on her way home.
The woman went to a hospital on June 19 when a rape kit was done. Police declined to say whether the results of that kit have come back. The woman filed a formal complaint against Kang 10 days later.
Chicago Police have been in contact with the Pirates, although they would not go into specifics about the investigations or give a timeline on when any charges may be filed. "These are very serious allegations, and we want to ensure that the efficacy of our investigation matches the severity of the allegations," a police spokesman said.