Posted on September 20, 2016, by Travis Pulver
Monday night was the first time many football fans got to see the most talked about quarterback in recent years—Philadelphia Eagles quarterback Carson Wentz. The talk has nothing to do with him being the second coming of Joe Montana or the next best thing to slice bread. No, it's because three weeks ago he was supposed to be inactive on game days because his skill set required too much work for him to play yet.
All of a sudden he was the man and he was ready to go—but was he really ready? Well, his record-setting performance over the last two weeks would say yes.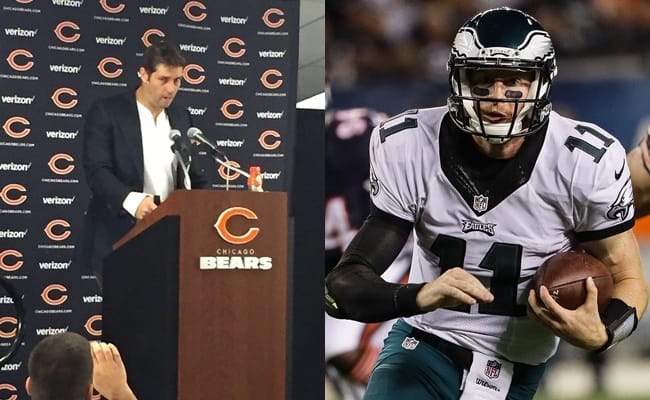 What record? After a solid performance (22-37, 278 yards, two touchdowns) that led to a win over the Cleveland Browns in Week One, he followed it up with another solid performance in Week Two. He took a few more shots from the Bears defense, and his stat line wasn't as good (21-34, 190 yards, one touchdown), but he did what counts.
He won and in the process made history. No other rookie quarterback since the AFL and NFL merged has started and won his first two games without committing a single turnover.
"Was it perfect? It was by no means perfect," Eagles coach Doug Pederson said. "At the same time, he's seeing it very well, and he's commanding the huddle. It's something a nine-, 10-year veteran would do. It's showing his maturity and the ability that he has to play quarterback."
Could Wentz have benefited from having some more time developing his game before getting inserted into the lineup? Absolutely. His throws are not always on target and his drives either ended in points or were three and outs. He has certainly benefitted from playing two soft opponents to start the season. But to be fair to him, he is doing something even veteran quarterbacks wish they could be better at.
He's not making mistakes. It doesn't seem to matter if he is playing on a national stage or if it just another Sunday afternoon game—what he does, he does well and without error.
"The game is not too big for him," Eagles wide receiver Jordan Matthews said. "Whether it is Monday Night Football, Thursday morning practice, it's going to be the same thing to him. He's going to come out. He's going to be poised. He's going to make his reads. He's going to make great decisions."
As for the Bears, the hard times appear like they are only going to get harder. While Jay Cutler is far from perfect and unlikely to lead the Bears to the Promise Land anytime soon, he is the best quarterback they have on the roster. But there is a good chance he could be out for a few weeks.
Cutler left Monday night's game with an injured hand and had a cast on his thumb at the postgame press conference. As it turns out, he injured a ligament in his thumb in Week One against Houston. Typically, the injury takes three to four weeks to heal, but Cutler was trying to play through it.
But it was aggravated during the game and eventually knocked him out of it. The team has yet to announce if he is going to miss any time. If he does, Brian Hoyer will get the start.
With or without Cutler, Chicago will next face the Dallas Cowboys Sunday night. Carson Wentz will finally face a tough defense when the Pittsburgh Steelers come to town Sunday.