Posted on November 19, 2016, by Travis Pulver
Monday Night Football features the Houston Texans and Oakland Raiders this week, but the game is not being played in Texas or California. No, this one is being played in Mexico at the Estadio Azteca in Mexico City. Why? The NFL wants to make more money, and rather than charge the fans even more, the league is trying to expand its fan base.
To do so, it is heading down Mexico way for the first time in over a decade to play a regular season game. So–if there were ever a time for a player to have a statement game, this would be it because not only will the eyes of one nation be on the game but the eyes of two.
If there was ever a player that could use a little positive press it is Houston Texans quarterback Brock Osweiler.
During the offseason, the Texans signed him to a four-year, $72 million contract ($36 million guaranteed) making it perfectly clear in the process that they intended on making him the starting quarterback from Day One even though he only had a handful of starts under his belt.
Nine games into the season, the Texans are on top of their division with a 6-3 record, but the team's success has been despite Osweiler and not because of him. He has yet to throw for more than 269 yards in a single game, has thrown for less than 200 in five games including the last three, and is rated higher than only one other starting quarterback—Ryan Fitzpatrick.
Yes, even Case Keenum is rated higher than him.
No other starting quarterback has fewer yards per attempt than him (5.61). As a direct result of his inability to connect with his receivers downfield, DeAndre Hopkins—who was third in receiving yards last season—isn't even in the top 40 this season.
Defenses can focus more on stopping the run game and short passes since they don't have to worry about Houston going deep making it much harder for the Texans to win games; a problem that has been compounded by injuries on defense making it more difficult for Houston to stop opposing offenses.
But despite Osweiler's struggles, the Texans are 6-3, have a comfortable lead in the division, and if team owner Bob McNair is right, Osweiler is going to get better.
"He's still basically a rookie," McNair said after his team's win over the Detroit Lions. "He's going to make some mistakes, but he shows that he has the talent, he has the ability and has the leadership that the team has confidence in him."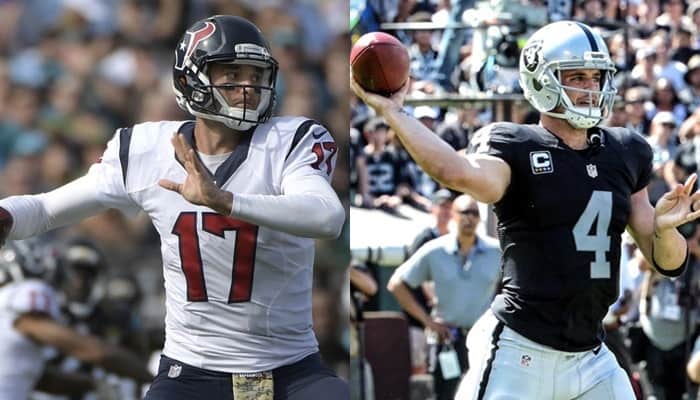 Monday night's game in Mexico against a suspect Oakland Raiders defense would be the perfect time to prove McNair is right.
Oakland's offense has been playing much better than the Texans in almost every category this season and has them primed to return to the postseason for the first time in years. That is if they can continue to outscore their opponents.
Three of their seven wins came by a field goal or less and two by a touchdown or less. One of their losses came against a team with a weak defense, just like there's, but they couldn't outscore the opposing offense (Atlanta, 35-28). The only time they played a team with a good defense and offense (Week 6, the Kansas City Chiefs) they were dominated, 26-10.
The Raiders have all the talent a coach could reasonably hope for on both sides of the ball, but they have trouble cutting out the mistakes and playing a good, clean game. This much was evident when Derek Carr threw for over 500 yards against Tampa Bay in Week Eight, but still had to go to overtime to secure the win thanks to a record-setting day of penalties (23 for 200 yards).
However, while the Raiders are undisciplined and self-destructive at times, when they put it together and play a good, clean game they are impressive—like they did against the Denver Broncos last week. Managing Trevor Siemian isn't much of an accomplishment, but the Raiders offense made the Broncos defense look human (Oakland won 30-20).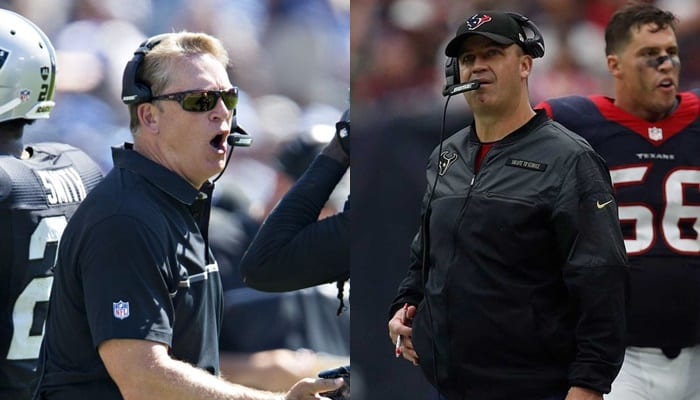 The potential is there for this game to go one of many ways. Oakland is averaging over 400 yards of offense a game, but the Texans defense is only allowing 317. Houston has only generated about 300 yards of offense a game, but the Raiders are allowing close to 400—which makes it look like this game is going to come down to coaching.
Who can have their team prepared, ready to play, and then performing better than the other? That team will be the one that wins this game.