The Clemson Tigers come of a big win in Tallahassee last week against Florida State, their first since 2006. They are currently undefeated (8-0, 5-0) and have a real chance to play for the national championship in this season's College Football Playoff. Coach Swinney's team plays very good football this year and they are to continue their great performance this weekend against the Syracuse Orange, in a matchup that has Tigers set as the -26 favorites!!!
The Syracuse Orange (4-4, 2-2), on the other side, had a week off following their 28-20 road win against the Eagles at the Chestnut Hill. Since Syracuse became a member of ACC in 2013, Clemson has won all three matchups. Before that, they met only once, during the 1996 Gator Bowl, when Syracuse dominated with 41-0. This Orange team could have a chance for a bowl game this season and upset in Clemson would be a big step.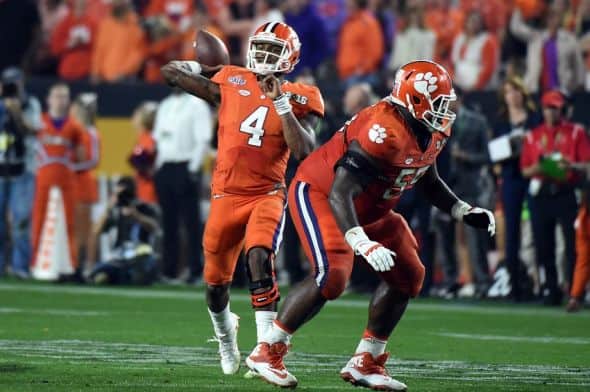 Remarks about Clemson Tigers
Quarterback Deshaun Watson had a great game against the Seminoles last week, with 430 yards total offense along with 34-yard touchdown pass to Jordan Leggett, with 2:02 remaining in 4th quarter to give his team the lead for good. He has thrown for 2328 yards this season with 22 touchdowns and 10 interceptions. Clemson's offensive unit plays solid this year with 478.9 yards per game and 6.20 yards per play. Receiver Mike Williams (648 yards) and tight end Jordan Legget (354 yards) carry passing game along with Deon Cain who has six touchdowns. Wayne Gallman takes care of rush offense with 571 yards and 7 touchdowns so far.
Defense is also in a good shape. They are second overall in ACC behind Boston College with 317.4 yards allowed per game and 4.50 yards per play. Opponents score only 17.6 points per game against the Tigers this year. But there might be some concerns. Cornerbacks Marcus Edmond (toe) and Trayvon Mullen (ankle) along with safety Jadar Johnson (calf) all have light injuries that aren't considered serious. They could be little slowed down because of this and going against the fast Syracuse offense will be a challenge.
Game advantages:
Watson and Co. are a mismatch against Syracuse D.
This will be a matchup to watch. Although, it could be a tie because Syracuse offense is rising its form lately.
Special Teams. Tigers kicker Greg Huegel missed only one FG attempt this season and is currently 32/33 (97 %).
Game disadvantages:
They might be under pressure. CFP berth is on the line here and it will be hard to keep their game on high level continuously.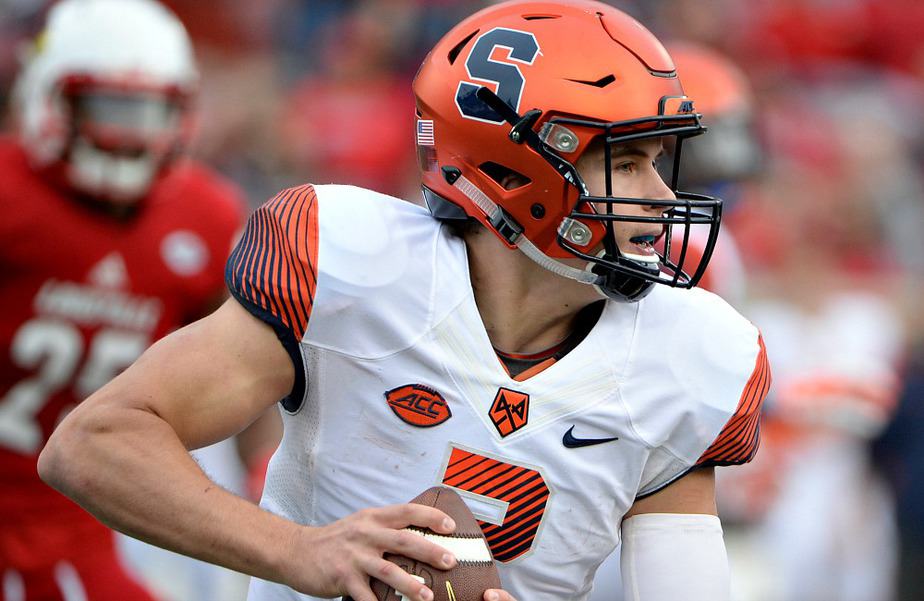 Remarks about Syracuse Orange
Syracuse offense ranks first in ACC with 486.8 yards per game. Quarterback Eric Dungey has 2631 yards thrown with 15 touchdowns and 6 interceptions in first 8 games. In last game against the Boston College, which is ranked first in ACC in total defense Dungery scored three touchdowns. They had two weeks to get rested and face Clemson without much pressure. Senior receiver Amba Etta-Tawo is having a huge year and already has 1074 yards and 7 touchdowns. Erwin Phillips (574 yards receiving) and Steve Ishmael (483 yards receiving) keep up.  Running game is Dontae Strickland's area and he is ok for now but needs to improve. 3.9 yards per carry is not that satisfying.
Defense is porous this season. They rank last in ACC in yards per game allowed (450.8). In their last game, they allowed the Eagles offense, which is at the bottom of offensive statistics in entire NCAA, to score 20 points. They'll have to buckle up if they are to have any kind of impact on this game but facing Watson and the Tigers offense seems like an effort in futility. Defensive end Chris Slayton along with linebackers Josh Black and Zaire Franklin will have to put some pressure on Watson but their 6.5 sacks combined in 8 games so far doesn't look promising.
Game advantages:
Offense might have a chance if they have a good day and it could be a tie versus very good Tigers D.
Game disadvantages:
Defense is no match to Tigers offense.
Coaching staff. Babers work in his first year with Syracuse is impressive, but Dabo Swinney is experienced enough to make right decisions in order to keep his team on a winning role.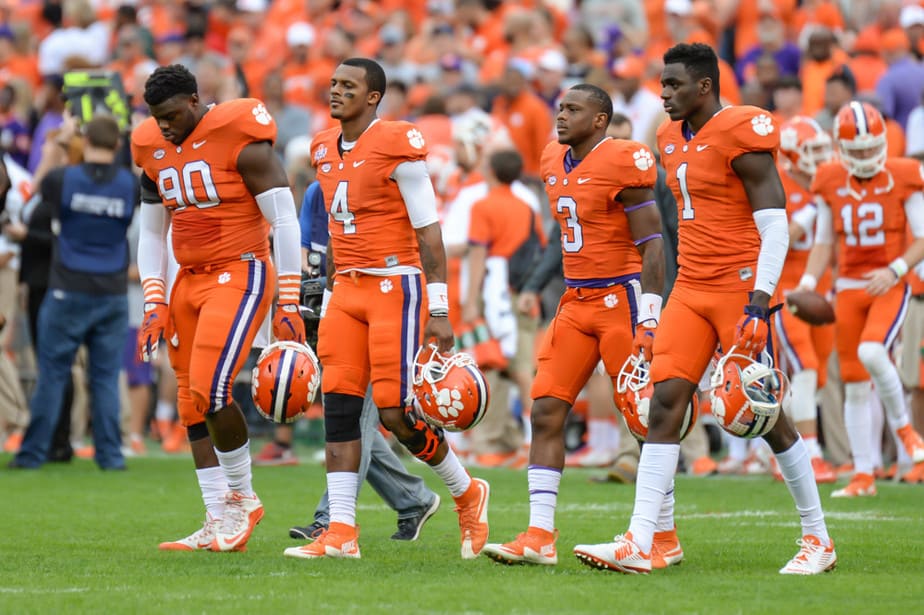 Game Prediction
The Clemson Tigers are the clear favorite in this face-off and should record another comfortable win on Saturday night against the Syracuse Orange. However, Syracuse is under much less pressure to win, while on the other side their form has inclined significantly in the past couple of weeks. Additionally, Syracuse is well rested, so they might pull off some great plays!!! Look for a potential shootout with both teams scoring combined over the 61.5 Total points over/under set!!!
Clemson Tigers vs. Syracuse Orange Score Prediction: Clemson 33, Syracuse 31.
When: Saturday, Nov. 5 – 3.30 p.m. ET
Where: Memorial Stadium, Clemson, SC