The Aggies (7-1, 4-1) are coming off from a dominating victory against New Mexico State. They have a great chance of making the College Football Playoffs this year and in order to do so, the need to keep on winning. The defeat against Alabama two weeks ago did put them down, but season is still everything but lost. The Aggies await the Saturday's matchup against the Bulldogs as a -14 favorite to win!!!
The Bulldogs (3-5, 1-3), on the other side, had come off a bit relaxed, after they defeated Samford last week, scoring season-high 56 points, with Nick Fitzgerald throwing for five and running for two touchdowns. We'll see how they hold on against one of the top teams this season.
Remarks about Mississippi State
When it comes to Bulldogs offense, it starts and ends with Nick Fitzgerald. He has collected a total of 1490 yards passing and also leads the team in rushing yards (657). Receiving unit is mediocre with Fred Ross (560 yards) and Donald Gray (462 yards) putting on some numbers. Bulldogs tailbacks Ashton Shumpert (231 yards), Aeris Williams (206 yards) and Brandon Holloway (208 yards) are splitting carries and that seems to be the offensive philosophy for Mississippi team this year.
Giving up 468 yards passing last week to FCS team is inexcusable. They need to get in order if they are not to be humiliated again. Aggies offense is clicking right now and Bulldogs doesn't seem to have much chance coming into this one. A. J. Jefferson (10. sacks) and Johnathan Calvin (8.5 sacks) lead this mediocre defense and will need some backup from other teammates in order to make an impact this Saturday.
Game advantages:
Home field. Home crowd should provide certain advantage for Bulldogs.
Offense, but only if Fitzgerald can repeat performance from last week.
Game disadvantages:
They will be a mismatch against well balanced Aggies offense.
Special teams. Texas punt returners already have 3 punts returned for touchdown.
Remarks about Texas A&M
Quarterback Trevor Knight is facing a defense that is No. 104 in passing yards allowed per season (263.9) and he is surely looking forward to it. He has thrown for 1868 yards and has 13 touchdowns and 6 interceptions in his senior year so far. He also rushed for 529 yards and has 9 rushing touchdowns. It's also known, that Aggies, just like Knight, keep it balanced. Trayveon Williams has 776 yards rushing this season and 6 touchdowns averaging 7.8 yards per carry. Receivers Josh Reynolds and Christian Kirk should provide all kind of threats for Bulldogs secondary.
Myles Garrett, Aggies leader in sacks (4), and tackles for loss (9.5) is out again, but that should not be an issue against one-sided Fitzgerald based offense. All they have to do is contain him and they have ways for that. Statistically, they do not have good numbers. They allow 424.0 yards per game to opposing teams, (176.5 yards rushing), (247.5 yards passing). We'll see if they manage in this endeavor, because if they don't, predicted easy win might be in jeopardy.
Game advantages:
This should be an easy downhill for Knight, Williams and Co.
Special teams. Christian Kirk has two and Nick Harvey one punt return touchdown this year.
Game disadvantages:
Defense without Garret might have some problems, especially if Fitzgerald is not contained in desired way.
They might be in some pressure. College Football Playoff chances will receive a big blow if they don't come victorious in this one.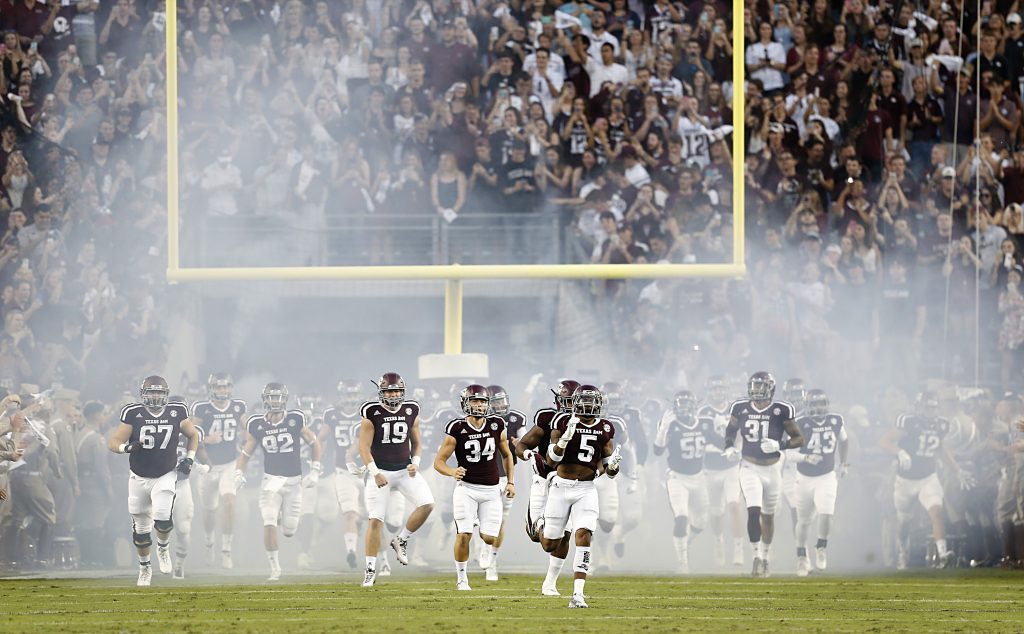 Game Prediction
Both teams scored over 50 points last week and they come pretty hyped up into this game. Aggies have greatly balanced offense that is a mismatch against Bulldogs D. Mississippi has greatly one-sided offense with Nick Fitzgerald in center of it. It's obvious whose defense will have easier job. For Bulldogs, CFP is in line and at the end chips might fall into place, but winning this one is a must. It is expected that both offenses have good games, and 62+ points combined is a good possibility. Having everything in mind, Aggies should emerge victorious on Saturday to keep their playoff hopes alive.
Mississippi State Bulldogs vs. Texas A&M Aggies Score Prediction: Mississippi State 21, Texas A&M 48.
When: Saturday, Nov. 5 – 12.00 p.m. ET
Where: Davis Wade Stadium, Starkville, SC