Posted on September 14, 2016, by Travis Pulver
After beating Florida State in the Peach Bowl last season, Tom Herman had to know what could happen this year—especially if his team did what it ended up doing to Oklahoma. His team would end up getting stuck with a label; one that is both good and bad.
Good because it means everyone (including the best high school players in the country) is watching you and bad because everyone wants to see you lose. The only thing we like more than a team on the rise is a team getting knocked back down a few pegs.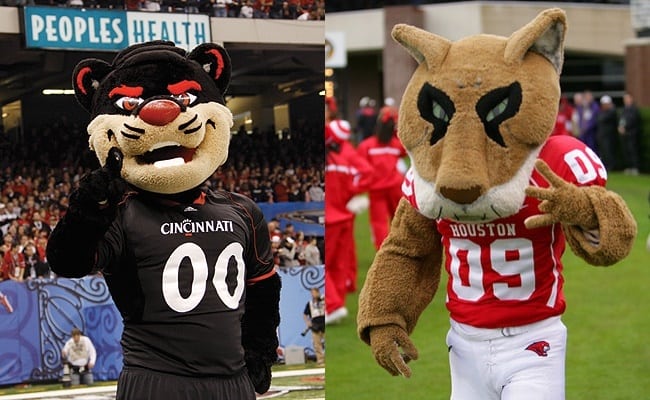 What's the dreaded label? After beating Oklahoma, the Cougars have become this year's Cinderella team that everyone hopes will bust up the Power Five hold on the CFB Playoffs—and Thursday night, the Cincinnati Bearcats will try to bring the dream to an end.
The task will be easier said than done, of course. Heisman candidate Greg Ward Jr. is expected to play this week after sitting out last week when the team faced Lamar (who they still beat easily). Ward is one of the best dual-threat quarterbacks in the country; a fact that is not lost on Cincinnati head coach Tommy Tuberville:
"We saw him play quarterback for the first time four years ago, so we've seen him every year," Tuberville said Monday on the AAC weekly coaches teleconference. "He makes plays. Obviously, we're going to have to play much better than we have been playing to contain a quarterback like Greg Ward."
Just stopping Ward and the passing game will not be enough to contain the Houston offense. Sophomore running back Duke Catalon, who had 117 all-purpose yards and a touchdown against Oklahoma but missed last week, is expected to play. Against Lamar, the Cougars had three backs gain more than 100 yards (Kevrin Justice—27 carries, 111 yards, two touchdowns; Mulbah Car—20 carries, 109 yards, one touchdown; Kyle Postma—seven carries, 106 yards, two touchdowns).
So stopping the Cougars from scoring is going to be a pretty tall task for Cincinnati's 95th ranked defense to do. The Bearcats held Tennessee-Martin to just a touchdown, but the Skyhawks gained 177 yards on the ground. They managed to hold Purdue to just 103 yards on the ground, but that was more because the Bearcats couldn't stop the pass (Purdue had over 400 yards passing), so the Boilermakers didn't need to run.
One way or another, the Cougars are going to score, so it will come down to whether the Bearcats can score on Houston. So far, the Cincinnati offense has not played poorly; it just hasn't been very good. They didn't get into the end zone against Tennessee-Martin (an FCS team) until the end of the first half. Against Purdue, they were more successful, but the Boilermakers are a terrible team.
Cincinnati is capable of putting up some points, but the Bearcats have yet to play a defense as good as Houston's. If the Cougars can handle Joe Mixon, Samaje Perine, and Baker Mayfield they can certainly handle Hayden Moore, Tion Green, and Mike Boone.
Cincinnati and Houston have played some good, close games in the recent past, but the talent level on the two teams has gone in different directions. Houston's has improved dramatically while the Bearcats have not.
If you are expecting the Bearcats to knock the Cougars down a few pegs—don't hold your breath.