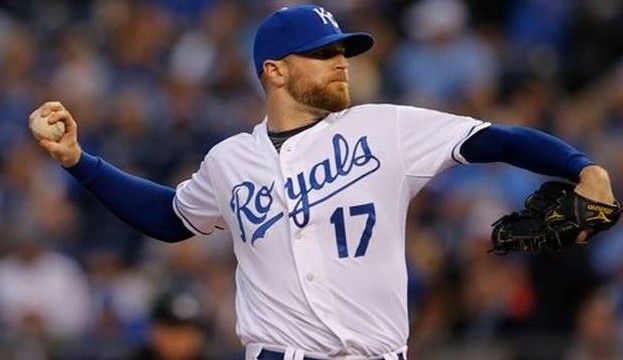 Posted on July 5, 2016 by Bryan Zarpentine
The hits just keep on coming for the Kansas City Royals, and not in a good way. On Tuesday, closer Wade Davis became the latest member of the reigning world champions to be sent to the 15-day DL. David has not pitched since last Thursday. The Royals are calling his injury a right forearm strain, but they have not given any other information about his prognosis. He was placed on the DL retroactive to Friday, meaning he will be able to return as early as July 16.
Davis has been one of the best relief pitchers in baseball since the start of the 2014 season, when he was a key setup man for the Royals on their way to winning the American League pennant. Last year, he saved 17 games for Kansas City, and then another four during the postseason, when he pitched 10.2 innings without allowing a run. Davis made the first all-star team of his career last season and looked to be on his way towards being named an all-star again this year with 19 saves and a 1.23 ERA. Instead, he will join fellow all-stars Mike Moustakas and Lorenzo Cain on the DL, along with starting pitcher Kris Medlen.
Of course, if there's one part of the team where the Royals can afford an injury, it's the bullpen, where Kansas City has accumulated an impressive amount of depth. Kelvin Herrera should be poised to step into the closer's role while Davis is on the shelf, as Herrera has posted a 1.40 ERA this season. The Royals also have a pair of competent setup men in Luke Hochevar and Joakim Soria, and they've gotten good contributions this year from both Dillon Gee and Chien-Ming Wang. To take Davis' spot on the roster, the Royals have called up righty Brooks Pounders, who is yet to make his big league debut.
Despite depth in the bullpen to fill the void left by Davis, the Royals are in a position in which they need all hands on deck. Kansas City currently sits in third place in the AL Central, seven games behind the first place Cleveland Indians and 1.5 games out of the second wild card spot. Injuries to the likes of Moustakas and Cain have had a negative impact on the team's offense, making a dominant bullpen with Davis present to close the door at the end of games all the more important.
The upcoming all-star break will help limit the amount of time Davis misses, assuming he can return when he's eligible to come off the DL. Meanwhile, Kansas City's bullpen depth should help to minimize the impact during his absence. However, losing a closer like Davis for any period of time will hurt, as his forearm strain becomes another injury holding the Royals back in 2016 as they defend their world championship.