Debt.com is a personal finance company that specializes in helping people overcome difficult financial problems and start afresh. Ryan Lochte is, as most people know, a 12 time Olympic medalist who is in desperate need of a fresh start after pulling a few less than ethical stunts at the 2016 Rio Olympic Games. Given these facts, it seems that the Ryan Lochte & Debt.com partnership is an ideal match for both parties.
Ryan Lochte is naturally happy with the endorsement deal. In a public statement, he noted that he is happy to work with a company that specializes in helping people get back on their feet. He also announced that he will be donating a portion of his income from the deal to the Parent Project Muscular Dystrophy charity.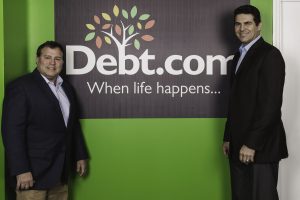 Debt.com is pleased with the deal as well. Its slogan, "When life happens" seems to fit well with the endorser's current state in life. Unlike many other companies that are concerned about having someone with a record of lying to law enforcement officials endorse their products, Debt.com is aiming to attract those who know they have made mistakes and are interested in putting these mistakes behind them.
Will it Work?
Having Lochte appear on television to talk about how America is the land of new beginnings may go down sideways with Brazilians who are still infuriated by the swimmer's drunken antics. However, the targeted American audience may very well feel that Lochte is the perfect messenger for the company. An imperfect Olympian in need of a fresh start reaching out to others who also need another chance is an image that is not soon forgotten and Debt.com may find that its partnership is well rewarded. Furthermore, Lochte may reap great benefits from this deal as well as other companies come to view him as a rehabilitated, mature man rather than a PR risk.
On the other hand, the phrase "when life happens" is not exactly a perfect fit with Ryan Lochte's situation. He did, after all, bring his troubles on himself and has no one but himself to blame for the outcome. Nonetheless, many people with financial problems have made mistakes as well and so may give the swimmer a pass.
How the Ryan Lochte & Debt.com partnership plays out remains to be seen. However, what can be said for certain is that Debt.com's decision to hire Ryan Lochte to film a few commercials for the company has generated a great deal of publicity on its own. Many people who were unfamiliar with Debt.com before now know that the company specializes in helping people struggling with debt, facing debt collector harassment and/or attempting to organize finances after bankruptcy. This message is sure to be of benefit to many people throughout the country even if the messenger is not able to turn this endorsement deal into a full-fledged comeback.
"Debt.com gives Americans a chance for a new beginning, and I am glad to be involved with a company dedicated to helping people with the opportunity to get back on their feet and move forward," Lochte commented. At Lochte's direction, a portion of his proceeds from the Debt.com endorsement will be donated to Parent Project Muscular Dystrophy.