Posted on September 23, 2016, by Travis Pulver
When the Chicago Bears travel to Texas for a Sunday night game against the Dallas Cowboys, the Bears are going to have two things going for them. It will not be Brian Hoyer starting for an injured Jay Cutler. The defense will be without the services of linebacker Danny Trevathan and already lost linebacker Lamarr Houston. Their defense will be suspect without two of its better players (and could be without nose tackle Eddie Goldman as well), but will be expected to stop Ezekiel Elliot, Cole Beasley, Dez Bryant, Jason Witten, and Dak Prescott.
So—what are the two things they have going for them? The Cowboys have trouble winning at home, and the Dallas defense is terrible.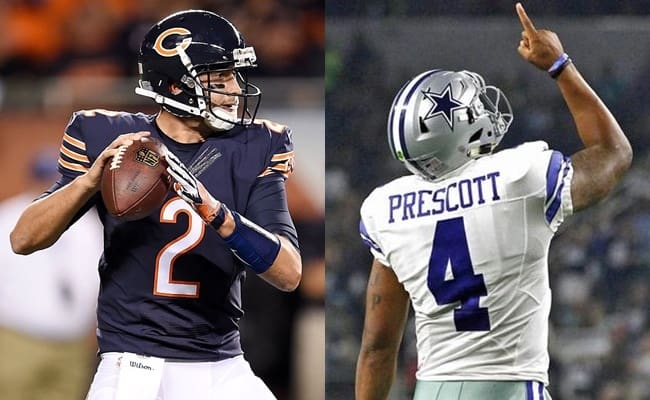 After losing to the Giants at home in the season opener, the Cowboys have lost their last eight home games. To be fair, without Tony Romo or a half way decent back-up quarterback, the team was terrible no matter where they played last season. But even when the team was good (12-4)—like in 2014—they were only 4-4 at home (8-0 on the road).
Since Jerry Jones opened his $1.2 billion stadium in 2009, the Cowboys are 27-30 at home. Chicago is 2-0 at AT&T Stadium, but the Bears will need more than history being on their side if they are going to win.
Something like the Cowboys terrible defense.
If the Bears ever wanted to give Jeremy Langford a confidence boost, they should have the second-year back run early and often against the Dallas defense while mixing in just enough from the passing game to keep the Dallas defense from stacking the defense to stop the run.
With Matt Forte now in New York, Jeremey Langford has been the driving force behind the Bears running game—and it hasn't been going well. Langford has just 85 yards to his name this season (57 against Houston and just 28 against Philadelphia) and is averaging only three yards a carry.
So the Cowboys may not need to stack the defense to stop the Bears running game.
As bad as Dallas is on defense, establishing a running game would appear to be the best way to beat the Cowboys. If Dak Prescott doesn't get on the field, he can't lead the team on a scoring drive, right?
The Bears may have a little more success throwing short to Eddie Royal, Kevin White, and Zach Miller. Hoyer looked okay after he subbed in for Jay Cutler last week (9-12, 78 yards). He mostly kept it short and was able to move the chains against a good Houston defense. This time, the defense is pretty bad—and that's great for him.
Should Hoyer get on a roll, it is not hard to see the Cowboys have some trouble against the Bears. If Dallas lets them stay close, Hoyer may have just enough talent in him to pull off the late upset.
Is it likely? Absolutely not, but it will be interesting to see how Dak Prescott handles himself and his team in a game he should win. Can he live up to expectations or will he lose focus and struggle?
We'll find out Sunday night.