Sports Betting Odds Explained
The world of sports betting odds is growing wider by the day. Once limited to Las Vegas casinos, technology has made it so everyone can bet on their favorite sports from the comfort of home. The business is getting so big, even ESPN may start their own sportsbook.

But before you begin, you need to understand how to read sport betting odds to make the smartest plays for your strategy. The best investment you can make is getting a Sports Information Traders package, filled with expert research each week to help you optimize your winnings.
If you're just getting started in the world of sports betting, we have your back. Here's the sports betting odds explained, so you can learn to put your money down with confidence.
How Do Sports Betting Odds Work?
Each week, bookmakers from Las Vegas use several proprietary models to set the sports betting odds across a number of leagues. Their research often includes team strength, recent trends, and personnel or coaching changes. With the data in front of them, they will publish several different types of odds for the week's schedule of games.

Across the spectrum, how sports betting odds work is by suggesting the likelihood of each team winning their contest, within a certain degree of confidence. A large difference between the odds suggests a mismatch between teams, while tighter odds show a game is expected to be close.
How to Read Sports Betting Odds
The easiest way of understanding sports betting odds is by looking at the positives and negatives of the numbers. Although it seems counter-intuitive, any team with a negative number is considered the favorite, as the minus-number represents the handicap against them. On the other side, a team with a positive number is considered less likely to win, and gives bettors better odds on the underdogs.
Pro tip: Using a sports betting calculator, you can see how much you would need to wager to win in any given situation.
Understanding Types of Sports Betting Odds
With the general concept of sports betting odds explained, it's important for every bettor to familiarize themselves with how betting odds work. There are five main types of odds available in American sportsbooks:

Moneyline bets
Bets against the spread
Over/under bets
Parlays
Teasers.
Moneylines
Also known as Vegas Odds, moneyline bets are arguably the most popular sports betting odds found across sportsbooks. On a moneyline bet, you are predicting which team will win the game, at a certain rate of return.
For instance: If a team has a moneyline of -278, you would need to bet $278 to get a return of $100. But if a team has a +225 moneyline, a $100 bet would return $225.
Point Spread
On a point spread bet, the favorite needs to win by a certain margin of victory for a winning wager. That's because the lesser team is "spotted" points as an advantage against the favored side.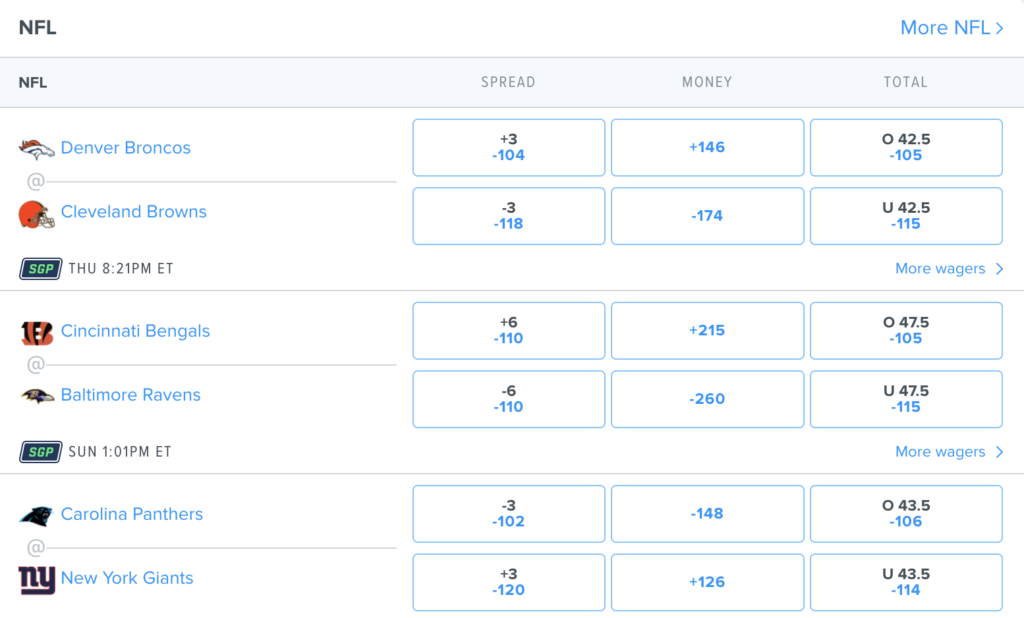 If Team A has a point spread of -6, they would need to win by at least six points for a point spread wager to be successful. If Team B loses by less than six points, they would cover the spread, with Team A bets losing.
Totals (Over/Under)
Understanding sports betting odds on a totals line is very easy. With this bet, gamblers are betting on the combined final score of a game and whether it will be above or below a set mark.
For example, if the totals line is set at 53 points, those betting "over" would win if the total score exceeds that number. If the sum of the scores fall short, then those who bet "under" will win. If the total final score is exactly 53, it would result in a "push" and all bets are returned.
Parlays
Parlay bets are among the most complex odds, because you are gambling on multiple factors in a game. For example, if you wanted to bet both the moneyline and the over/under on a game, you could make a two-way parlay bet.
For a parlay bet to pay off, all of the factors you are betting on need to be successful. If you make a three-way parlay bet and only two of the outcomes are successful, you would lose the wager.
Teasers
In order to encourage more wagers, some sportsbooks may allow bettors to buy more points and change the sports betting odds to what they believe are favorable. This is called a "teaser" parlay bet, allowing you to exchange points for volume.
In a teaser bet, the sportsbook will allow you to bet on two or more games, while paying for points on each game. For example:
In Game 1, you believe Team A will lose to Team B, but not by the three-point spread given by the oddsmakers.
In Game 2, Team D is the favorite over Team C by 7 points, but you think the game will be closer.
If the sportsbook allows you to place a teaser bet, you could wager that (in Game 1) Team A's loss will be by a wider margin, while taking fewer points on Team D (in Game 2). If both guesses are correct, you would win.
Sports Information Traders
When it comes to making smart plays every week, don't leave your bets to chance. The experts at Sports Information Traders can give you the best research each week to help put the odds in your favor and maximize your success. Contact us today to get a consultation, and start watching your returns grow.