Online Alabama Sports Betting Options 2021
Alabama is one of the biggest football states in the country. Many Alabama high schools drawl crowds as big as some small colleges, and it's also home to the Crimson Tide and their 18 National Titles. While there's no shortage of fanfare when it comes to football and sports in general, you'll be hard pressed to find a place to wager on sports within the Alabama state limits because it's still illegal, despite many attempts to propose sports betting legislation.
With no sportsbook options or casinos that accept sports wagers in the state, your only option will be to use one of the many online sportsbooks and casinos. Here's a list of a few reputable betting platforms below:
1. Bovada

One of the most popular online betting platforms, Bovada, has been around since 2011 and quickly gained acclaim as one of the more respected online sportsbooks. You can place wagers on practically every American or International sporting league, as well as a variety of other betting features like a live casino for poker and other common casino games.
Bovada is also known to have some of the better promotional sign up packages, but these change regularly and with the seasons. Fast, easy payouts and top notch promotional offers are just a few of the many reasons that Bovada is consistently ranked towards the top of online sportsbooks. Sign up today to earn a free $250 betting credit with your first deposit and start taking advantage of the various sports betting options.
2. BetUs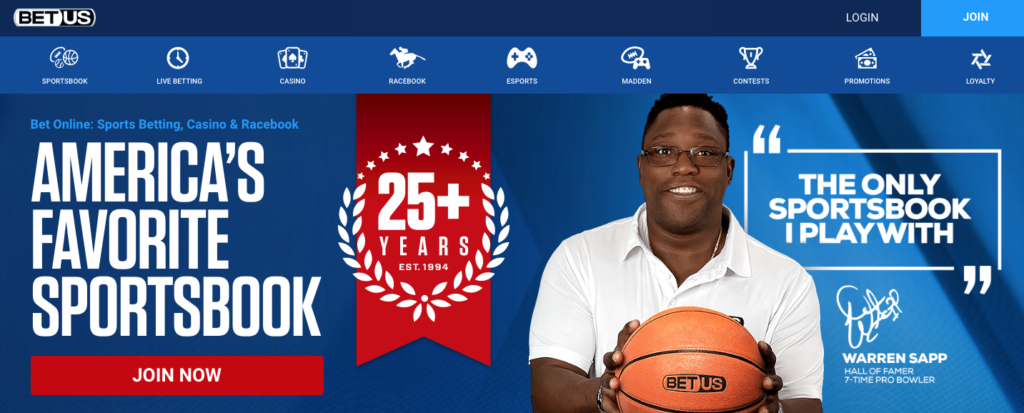 Founded in 1994, BetUs is another A-rated online sportsbooks that Alabama locals have access to. Like most of the top choices on our list, BetUs offers a wide variety of betting formats from straight side and totals picks to more specific prop bets.
One feature that sets it apart from other online sportsbooks is that it's one of the few that currently includes E-Sports betting. E-sports is quickly growing into one of the most heavily wagered on sports in the world, and BetUs allows you to take advantage and cash-in on your favorite E-sports team.
In addition to their horse racing, e-sports, and traditional sports wagering they also offer all of your typical casino games from Blackjack to Poker and many more. As one of the most reputable sportsbooks online available to Alabamans, BetUs is a solid choice to get started with your sports wagers.
3. MyBookie

Another top ranked online sportsbooks for Alabamans with some great promotional sign up deals is MyBookie. They consistently have some of the best promotional offers available on the web, and their current promo is a $1,000 bonus when you sign up today and make your first deposit.
They offer all of the professional international leagues as betting options, so you don't have to just wager on local and regional sports leagues. They also have horse racing betting options for those that can't make it to the track but would still like to wager on the races.
Very simple and straight forward interface makes navigating MyBookie and placing your wagers very easy. While some online books can get confusing with all of the international sports betting leagues and options, MyBookie's online interface is very user-friendly and makes it easy to place your daily wagers.
4. BetNow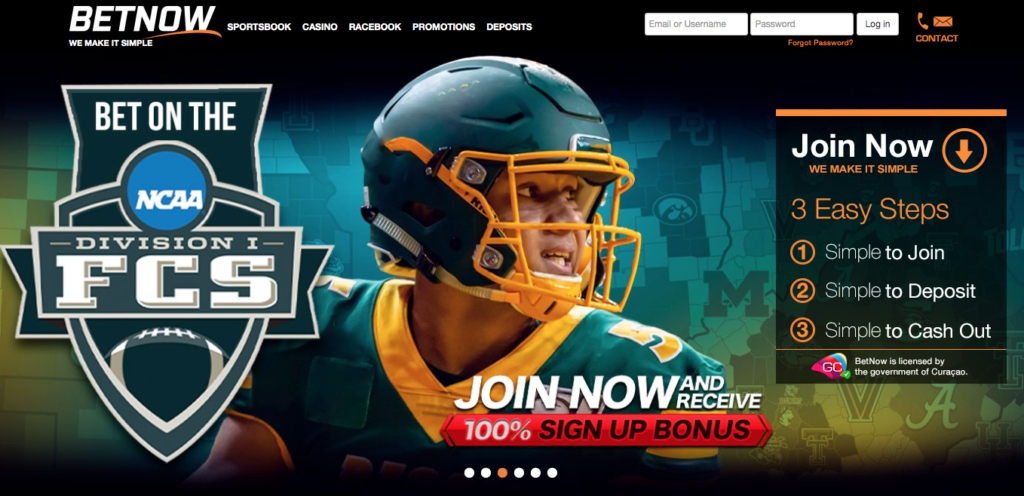 BetNow is one of the most popular online sportsbooks in all of the European Union. While they may be located in the EU, a very large portion of their clients are Americans who strictly wager on American sports. Similar to MyBookie, BetNow has a very simple and user-friendly betting interface for you to place your wagers. Just like with all of our top selections, BetNow features all of the major international sports betting leagues for you to choose from, and also offers horse racing options, as well.
Easy payout systems and good customer service are two of the things that set BetNow apart from the rest. While many online books make it difficult for players to cash out their winnings, BetNow makes it easy for you to have your winnings within only a few days. Good user-friendly design as well as solid promotional sign up deals, including their current deal where they'll match your initial deposit.
Easy to use and good introductory promotional offers make BetNow one of the first options you should consider when looking for a new online sportsbooks in Alabama. For more information or to sign up for their current promo you can visit them at BetNow.eu.
5. BetOnline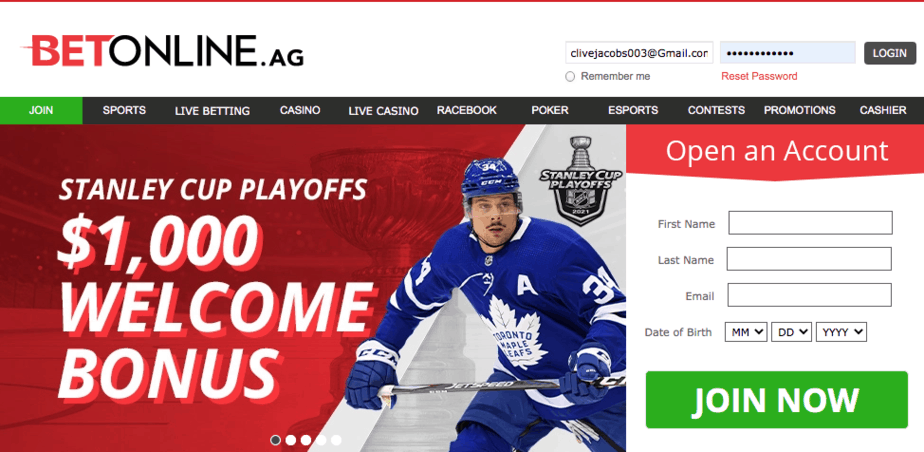 Originating in Panama City, BetOnline is one of the few reputable online sportsbooks based in Central America. It was founded in the year 2001 and quickly gained worldwide acclaim as one of the more safe and reputable online betting platforms.
Like BetUs, BetOnline.ag is also one of the few online sportsbooks that allows visitors to wager on e-sports, as well as other traditional sporting leagues from the around the world. E-Sports is quickly growing into one of the most heavily wagered on leagues in the world, and this is one of the easiest places that you can wager on it.
In addition to their e-sports and horse racing options, as well as more traditional casino games like poker and Blackjack, they also offer a wide variety of sign up bonuses for new customers. Great customer service, a plethora of betting options and easy payouts make BetOnline easily one of the top choices to consider when shopping around for a new sportsbook.
How Do We Rank Our Sportsbooks?
There's literally thousands of online sportsbooks to choose from when choosing where to bet in Alabama. While many states have laws against sports betting, online sports wagering has long been a loophole for those living in banned states such as Alabama. We take our list very seriously and we weighed all relevant criteria in determining this ranking. Below is some of the guidelines we used when determining these specific online sportsbook recommendations.
1. Fast and Easy Payouts
It may seem like getting your money out of an online sportbsook should be easy. After all, it's your money that you won, you should be able to withdraw it immediately. Unfortunately that's hardly ever the case with online sportsbooks and it's often a lot of back and forth to get your money. That's not the case with our top 5 selections. All of these selected online sportsbooks are very reputable and have no hassle payout systems. You may have to wait a few days for your money to clear, but there's no tricks or limits that these books impose to keep you from getting to your own winnings.
2. Number of Betting Options
Some online books limit the betting options that they provide to their customers. For example, some online books don't offer betting on E-sports or even Horse Racing. These are not the kind of sportsbooks that we recommend. An online sportsbook should give you access to practically every professional sporting league around the world. In today's global sports world, there's no excuse not to serve the entire global market and give every possible betting option available.
In addition to the sporting leagues available to wager on, we also take into account the user-interface and how easy it is to navigate the site and place a wager. Some sites can get overwhelming with all of the betting options and various leagues to wager on, but all of these sites do an exceptional job making it easy on users to place their bets.
3. Customer Service
All of these sportsbooks are located overseas, so we understand that customer service can sometimes be difficult when there is a language barrier. All of these sites are among the top rated in customer service and satisfaction. They all offer 24 hour customer service, and most also provide some Live Chat options for those that can't call internationally. In addition to general customer service we also analyze the company's reputation to see if there's any red flags or shady activity in their history. All 5 of these sportsbooks we selected are among the most reputable in the world.
Ready to Wager?
If you've done your research and are ready to place your first wager, feel free to visit one of the sites above that are approved for Alabamans, and get started on your path of sports betting. You can sign up for one to try it out, or feel free to sign up for a few of them so you can try them out and see which best fits your betting needs. Once you're setup and ready to wager, come back to SportsInformationTraders.com for all your winning sports betting information and let us help you cash in this season.