TD Garden

Boston Celtics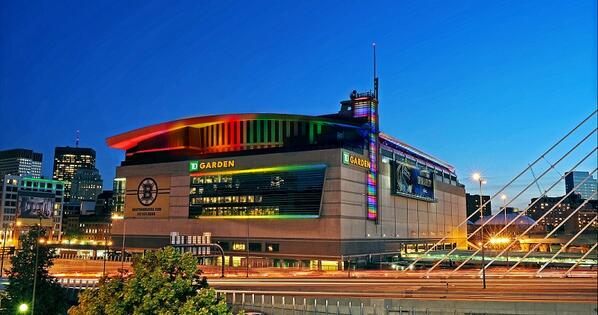 About Stadium
Nicknamed The Boston Garden, or The Garden, the TD Garden is a historic sports arena in Boston, Massachusetts which primarily serves as the home of the NBA's Boston Celtics.
The arena was originally named the Shawmut Center, when it was completed in 1995. Then changed to FleetCenter, then later to TD Banknorth Garden.
The arena not only serves as home for the NBA's Boston Celtics, but it's also the home ice for the National Hockey league's Boston Bruins.
• Capacity: 18,624
• Opened: September 30, 1995
• Location: 100 Legends Way
Boston, Massachusetts 02114
History
• In 1985 the rights to the location of the proposed stadium were awarded to Boston Garden owner Delaware North. However, construction was riddled with setbacks and economic troubles that slowed progress.
• Construction of the arena took over two years with ground broken on the project on April 29, 1993 and opening on September 30, 1995.
• The stadium has received major renovations three times since its completion. First in 2006, and then again in 2009 and 2014.
Past and Current Teams
Boston Celtics (NBA) (1995–present)
Boston Bruins (NHL) (1995–present)
Boston Blazers (MILL) (1996–1997)
Boston Blazers (NLL) (2009–2011)