Posted on September 15, 2016, by Travis Pulver
Fans of the Oklahoma Sooners, Notre Dame Fighting Irish, and Ole Miss Rebels had high hopes for this season. With their teams stocked with talented, veteran talent, they were believed to be good enough to contend for a spot in the CFB Playoffs and maybe even win a national title.
But then they lost their first game of the season.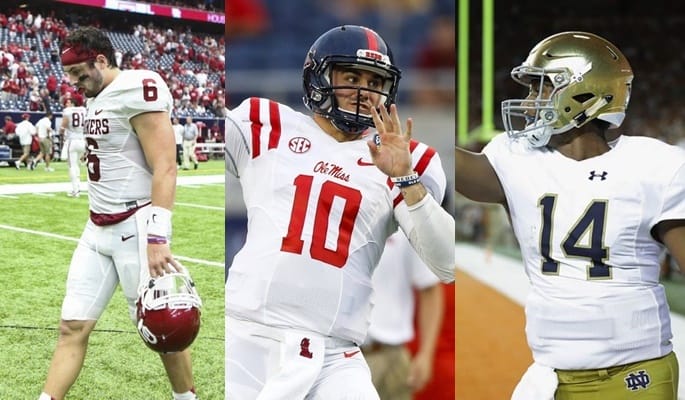 Losing certainly damages a team's shot at making the playoffs, but it doesn't make it impossible. Both CFB Playoff winners lost a game early in their respective seasons, rebounded from said loss to earn a spot in the playoffs, and went on to win it all.
However, two losses—two losses will more than likely make it practically impossible for a team to make it in. Scheduling a tough game to open the season gives a team a chance to make a statement, but if you lose it puts you behind the eight-ball for the rest of the season—which is exactly where the Sooners, Fighting Irish and Rebels find themselves headed into their third game of the season.
Of the three, Notre Dame has the least challenging game this weekend. They are favored by more than a touchdown over a Michigan State team that was sloppy and struggled against an FCS team in its season opener. The Spartans had a lot of players to replace from last year's Big Ten championship squad, and they clearly haven't replaced all of it.
If the Spartans can attack the Fighting Irish secondary with the deep ball, they may have a chance. But if they don't and Kizer is given enough time to work his magic, Notre Dame should come out of this one with its slim CFB Playoff hopes still intact (opened the season with a 15-1 shot; now 25-1).
Baker Mayfield and the Oklahoma Sooners are going to have a much tougher time keeping their hopes alive. Ohio State returned only six starters from last season's talented group, but one of them is their ultra-talented quarterback, J.T. Barrett. So far, he appears to be more than capable of getting the best out of his young teammates.
But to be fair, both wins came against soft competition (77-10 over Bowling Green State and 48-3 over Tulsa). However, in spite of that, they are still favored by two with the game being played at Oklahoma.
That could be because the Sooners have been a pitiful second half team the last two times they stepped foot on the field against real competition. They failed to score in the second half against Clemson and only managed six against Houston. If Baker Mayfield, Joe Mixon, and Samaje Perine can't get the team into the end zone against the Buckeyes, the Sooners are going to be out of the hunt.
It won't be surprising if Bob Stoops ends up on the hot seat as well. What good is a head coach that can't make key second half adjustments when his team needs them the most?
Ole Miss was seen as having a shot at making the CFB Playoffs at the start of the season, but not a great one (20-1). They could have established themselves as a top contender if they had held on to beat Florida State, but now they are on the outside looking in (60-1). However, should they pull off a miracle and beat Alabama (who is favored by 10), they will be right back in the thick of the chase.
Winning will not only revive their playoff hopes, but it will make history. No one has ever beaten a Nick Saban coached Alabama team three times in a row, but with a win Saturday, Ole Miss will be able to lay claim to that achievement. Doing so, of course, will be easier said than done. Chad Kelly will have to play mistake-free ball, his new offensive line will have to figure out how to keep the tough, talented Alabama front from mauling Kelly, and the Ole Miss defense will have to make Alabama's freshman quarterback look like a freshman.
It will certainly help if Alabama can make a few mistakes. The Crimson Tide committed five turnovers against Ole Miss last season that resulted in 24 points for the Rebels.
It is unlikely that Ole Miss will be able to do it again or that Alabama will give them as much help as they did last season, but if anyone can pull off the upset, the Rebels have proven they can.