Posted on October 12, 2016, by Travis Pulver
If there is a coach in the NFL that needs a win more than San Diego Chargers head coach Mike McCoy—well, there isn't anyone that needs a win more than him. Many thought he would have and should have been fired after last season's 4-12 finish. But he wasn't and now the team is off to a 1-4 start, and people are calling for his job once again.
A single win will not get the haters off his back, but it will quiet them down for a little while—even longer if it comes against the defending Super Bowl champions, the Denver Broncos, Thursday night. While it may sound like a farfetched notion, they could do it.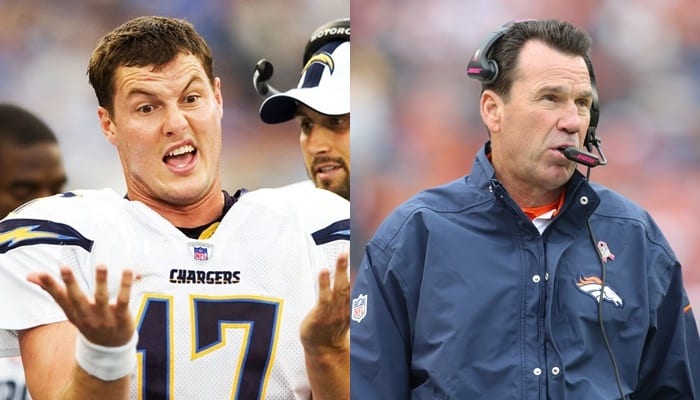 The odds are certainly against the Chargers. This season they have lost four of five games. In each, they had a lead only to see it slip away in the final minutes of the game, or had a chance to tie up the game late in the fourth quarter only to mess up the play.
So they have been competitive in every game, but they seem to be finding ways to lose.
"You can't make this stuff up. You think, 'Really, is there any other way we can find a way to (lose?),'" said Chargers quarterback Philip Rivers after the loss Sunday to the Oakland Raiders.
To beat the Denver Broncos—who will be without their head coach, Gary Kubiak, this week for health reasons (special teams coordinator Joe DiCamillis will be the interim head coach this week)—they can't make any of the mistakes that led to the losses they've already suffered. Denver's defense will certainly be doing everything it can to encourage the offense to make a few of the very same mistakes—like turn the ball over.
The Chargers offense has committed 11 turnovers this season, including eight fumbles. Second-year running back Melvin Gordon has had one in each of the last two games; both led to touchdowns for the opposing team.
Turnovers would play right into Denver's hand. They help every team, but they are especially useful to a team like Denver who is still breaking in a new quarterback. Shorter fields mean fewer opportunities for new quarterbacks like Siemian and Paxton Lynch to make a mistake.
With Trevor Siemian expected to return after missing last week with an injury, it also means the opposing defense will have fewer opportunities to hit him.
Along with San Diego's propensity for turnovers, the fans will be watching to see if the Charger can replicate the kind of success that the Atlanta Falcons had against Denver's defense. However, Melvin Gordon has yet to be a big part of the passing game in San Diego, and it is unlikely the Chargers will make him one Thursday.
What could make the difference for the Chargers is rookie defensive lineman Joey Bosa. After a lengthy contract dispute, he finally signed his contract before the regular season started, but injured himself in practice. Last week he finally made his debut and played maybe a third of the Chargers defensive snaps—and did quite well.
In just 27 snaps he recorded two sacks, one quarterback hit, four quarterback hurries, and five total stops. If those numbers can increase as his playing time increases—he is going to give opposing quarterbacks nightmares.
Phillip Rivers can sling the ball as good as anyone in the NFL, and he has some pretty decent receivers to throw to. For the Chargers to have a good chance of winning, he needs to get off to a hot start and build a nice lead before halftime.
In other games this season, that has proven not to matter as the other team overcame the Chargers lead and went on to win. But in this game, the other team has a quarterback who has not had to overcome serious diversity yet.
Siemian did have to overcome a 10-point lead against the Carolina Panthers but otherwise has not been down by more than a touchdown. The Chargers have had leads of 13 (Saints) and 17 (Chiefs) in the fourth quarter only to lose both games.