In their first home match of the season the Washington Wizards will have to face one of the strongest sides of the Eastern Conference, the Toronto Raptors. The Canadian team has very high expectations this season as they look to pose a serious threat to the Cleveland Cavaliers or any other team aiming for the championship.
The Raptors have 2-1 record currently and are 2nd in the Atlantic Division, while the Wizards are 0-2 and are at the bottom of the Southeast Division. In order to see whether the Wizards can pose a threat to the Raptors, we should look at the statistics.
Key stats!!!
 The strength of the Raptors could be seen in their only narrow 94-91 loss in their previous game to the current NBA champions Cleveland Cavaliers, and this is because apart from their pretty good offense, they play a tight defense and seek to press their opponents as much as possible. Toronto has averaged around 101.7 points per game this season but also only allows 95.7 per game which has them 17th and 6th in the NBA respectively. They have a decent rebound average of 55.3 per game but their main weakness are the assists column, as they are averaging only 15 per game this season putting them at 30th in the league. This is perhaps their biggest weakness currently which they should address or the Wizards could look at ways of exploiting it. On the other hand, the Canadian team only allows 17 assists per game which ranks them 3rd and shows how tight their defense is, and an average of only 51.7 rebounds to opponents won't be a promising sign for the Wizards either. They do, however, also have a problem with shooting behind the arc averaging only 22% this season, something they should improve immediately.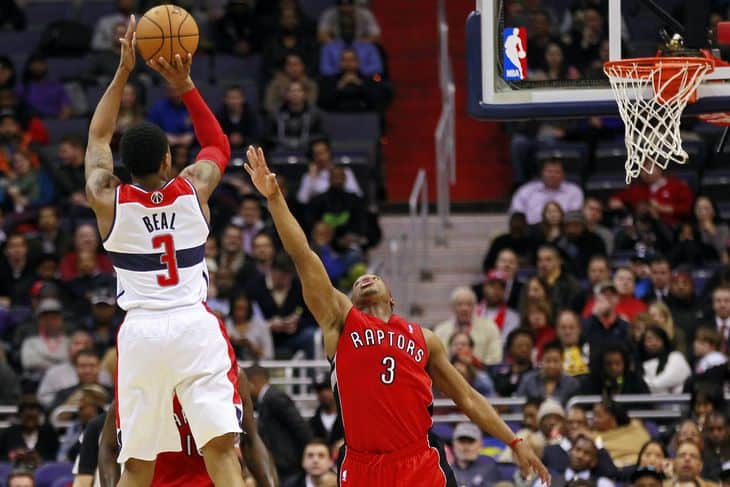 Maybe the biggest problem for the Washington Wizards this season is the fact they average 101 points per game but allow 113 points to their opponent, leaving them with a scoring margin of -12. They will definitely need to close this gap if they want to stand a chance against the Raptors. Other offensive departments aren't much better for the Wizards, as they average only 49 rebounds and 22 assists per game. They average only 24% from the arc and 43% from the field, which is certainly not a promising statistic.  Their opponents average 58 rebounds and 26 assists per game, leaving them at 24th and 28th respectively, which they will seriously have to improve against the strong and disciplined team of the Toronto Raptors.
Key players!!!
 DeMar DeRozan has been on fire this season and continued to shine in the Raptors previous game against the Cavaliers, scoring a massive 32 points. His average so far is 35 points per game while spending 37.3 minutes on court and pulling down another 5.3 rebounds and 1.3 assists. His teammate, Kyle Lowry, is another player the Raptors will rely on as his average so far is 18.7 points, 4 rebounds and 6.3 assists per contest. He is also pretty steady from the free throw line currently averaging 85%.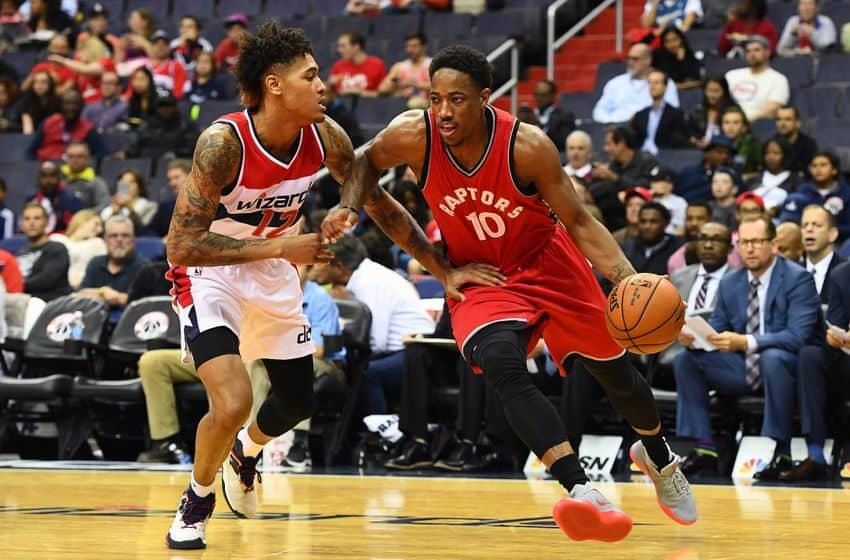 The two players the Wizards will mostly rely on are Bradley Beal and John Wall (who else, right?). Beal has averaged 13. 5 points, 2.5 assists and 1.5 rebounds per game while his teammate Wall does somewhat better, averaging 17 points, 11.5 assists and 3 rebounds. It is clear that since individually the Wizards players cannot compete with the likes of DeRozan, they will have to rely much more on teamwork and smart play in order to try and penetrate the Raptors strong defense.
Despite that the Wizards are playing at home, we believe that the Raptors are a much better team currently and should take the win in this matchup!!!
Toronto Raptors Injuries
C Lucas Nogueira Ankle "?" Wednesday vs. Washington
PG Delon Wright Shoulder out indefinitely
F Jared Sullinger Foot out indefinitely
Washington Wizards Injuries
C Ian Mahinmi Knee out indefinitely
Toronto Raptors Betting Trends
The Toronto Raptors are 1-2-0 against the spread
The Toronto Raptors are 2-1-0 against the over/under
Washington Wizards Betting Trends
The Washington Wizards are 0-2-0 against the spread
The Washington Wizards are 2-0-0 against the over/under