The Vegas Runner is a professional sports handicapper and bettor who has made millions from wagering on sports over the last two decades. Featured in a number of major publications, as well as various appearances on television networks like CNBC.
One of Vegas Runner's most commonly used, and perfected techniques is to wager on the early lines for games. Meaning he places his wager the day the line is introduced, as opposed to waiting till game day. The reason for that is simple… He wants the absolute best odds available for himself and his wagering clients.
By placing his wager the day the line is introduced, he's usually able to get better value by getting the original line, instead of getting the adjusted line which can move up to a few points by the end of the week in a sports like football. This also allows him to "middle" games where he'll place a wager at the beginning of the week, and if the line moves enough that he can place a wager on the other side, too, and potentially win both wagers. This is a technique only used by the best of the best sports handicappers and bettors around the world, but one that can be extremely profitable when done correctly.
Vegas Runner's Real name is Gianni Karalis and he lives in Las Vegas, Nevada.
His popularity skyrocketed once he hit national network TV on stations like CNBC where he talked about his success betting on sports. However, he originally made his name by picking consistent and documented winners. Any handicapper hitting around 70% winners is bound to make a big impression on anyone looking to improve their own sports wagers, and its his sustained success that's helped The Vegas Runner become the force that he is today in the sports betting industry.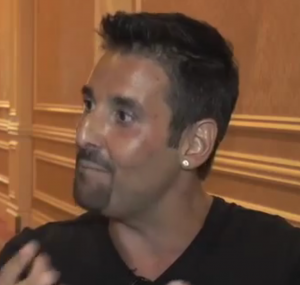 The Vegas Runner's bread and butter has always been football. He's shown an ability to be able to pick winners in both college and pro football consistently close to 70% for his career. While there are a few big name, documented handicappers out there that also can claim to hit close to 70% documented winners, the amount of time he's sustained this streak of success is unparalleled in the world of sports gambling.
He's already made millions from betting on sports and selling his picks to clients all over the world, at this point he has his fortune, and could even retire, but as he explains, it's all about winning and beating the Vegas sportsbooks at this point. He's achieved every mark of success that one could hope to in sports handicapping, now he's out to prove that he's more knowledgeable than the Vegas sportsbooks themselves.
The Vegas Runners Twitter and debate on him leaving Pregame.com has caused some controversy of late.
One of the most well-known and established professional sports handicappers, few people would dare to put their picks up against the Vegas Runner, and he's even been banned from a number of casinos and sportsbooks around Las Vegas which has forced him to use other people to place his wagers for him. With another NFL and college football season upon us, if you're looking to cash in on Sundays, The Vegas Runner is one of the first resources you should check out.