Cricket Betting in Europe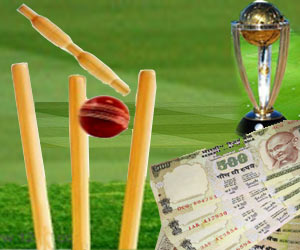 While cricket can be found being played in most countries throughout Europe, it's most deeply rooted in England's sports culture. Historically, England is one of the top cricket playing nations in the world and therefore still stand above the other cricketing nations of Europe. Indeed, the very origins of cricket itself can be traced back to England.


With England playing Test Matches every summer, in addition to One Day International games and Twenty20, there are plenty of betting opportunities and chances to cash in on the modern game. Many of these apply to the same forms of cricket all over the world, such as match betting, series winner, tops batsman, runs from next delivery and method of dismissal. Some of these carry more risk than others and by using statistics, punters can increase their chances of placing a successful bet. Whether a cricket match is being played in England, Netherlands, India or Australia, the same betting principles apply.


In addition to international cricket, a number of domestic tournaments take place in England, including the First Class County Championship, Royal London One Day Cup and the NatWest T20 Blast.


The great thing about cricket betting in Europe, is that the popular bookmakers, such as Bet365, Bet Victor, Paddy Power, Ladbrokes and Sky Bet, offer a wealth of betting options, including all of the markets mentioned above. Furthermore, using a tool such as Odds Checker, it's possible to get the best odds for your bet, quickly and easily.


A new betting market, that has become especially popular in English cricket, is spread betting. Basically, this involves placing a bet on the difference between the scores of the two teams involved. Spread betting can also be used on individuals within a game, such as how many runs a batsman will score or the difference in runs scored by two teams. This form of betting can be very exciting on the shorter forms of the game in Europe, such as One Day Internationals or the NatWest T20 Blast.


Please see below for an example of cricket spread betting:


The game is a One Day International between England and New Zealand at Lords. Joe Root comes to the crease and the bookmaker offers a spread of 42 – 48 for how many runs he will make in the innings. Having conducted the necessary research, you come to the decision that Root is not going to trouble the scorers today and therefore you 'sell' at 42 for the price of £1 per run.


This means, that if Root is bowled out for 20 runs, you have just made £22 from your £1 bet. However, if Root turns the form book on it's head and proceeds to make 128 before being dismissed, you face a loss of £80.


Spread betting is becoming more and more accessible in European cricket, especially during live, in-play betting. It can take time to become accustomed to spread betting but the rewards can be great, when applied accordingly.


Don't limit yourself to only cashing in on America's major sports. You're missing out on a plethora of favorable odds and lots of potential cash if you do. It's not about the shape of the ball, or the entertainment factor… It's about making money, and we can help you do just that with our international cricket picks.