Posted on July 28, 2016, by Travis Pulver
Teams like veteran players for a number of reasons. How well they play is the most important thing, of course, but a good veteran player will provide leadership in the locker room and on the field and can help mentor young players on life in the NFL.
Defensive tackle Gerald McCoy has been that person for the Tampa Bay Buccaneers, but it appears like that is going to change. Why? He had a private conversation with the Buccaneers second-year quarterback, Jameis Winston, where Winston basically told him he needs to change his style of leadership.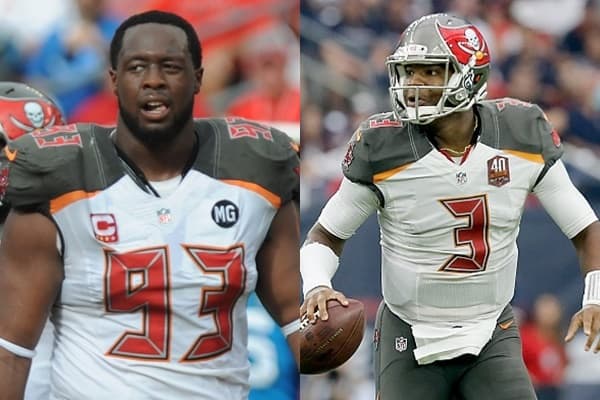 As the starting quarterback, Winston is expected to take a leadership role even though he is just a 22-year old kid. It sounds like he is trying to do just that by making sure he and the other team's leaders are all on the same page.
Of course, something like this is easier said than done. McCoy doesn't have to respect or do anything Winston says—but in comments, he made after practice Wednesday, it appears that he is taking whatever Winston said seriously (FoxSports):
"You guys have seen me do things a certain way, and that's going to change because the face of the franchise came to me and said 'hey, if we're going to win, we need you to do this," McCoy told reporters.

"[So I said] OK, my quarterback said this is what he needs, this is what I'm going to do. Because if he feels like that's what our team needs in order for us to win, who am I going to tell him 'No, I'm not going to do that.' Because I want to win too."
It is interesting to see how the dynamic has changed after having Winston on the roster for just one season.  When he was drafted, McCoy told Winston's parents that he was going to take care of their boy. Now, over a year later, Winston is telling McCoy it is time to step up and be more accountable.
McCoy could have seen the words as harsh, but instead appears to be seeing them as evidence that not only is this Winston's team, but he's ready to step up and be the leader it needs. So he's going to listen to him and do as he asked—while he passes the leadership torch to him.
"[I'm] passing the torch. Ronde [Barber] gave me the torch. I didn't ask him for it. He passed it to me. So, 'Here you go, Jameis. Go take us to the Super Bowl,'" McCoy said (B/R).
It has been a long time since the Buccaneers have been considered "good," but that could be changing as soon as this season. The team has had a good defense but has been lacking on offense. However, if Winston can get the offense to gel on the field as well as he's getting the locker room to gel the Buccaneers could the surprise team of the season.