Posted on November 1, 2016, by Travis Pulver
Strange things are afoot, not at the Circle K, but in Frisco, Texas, where the home of the Dallas Cowboys is now located. No, Bill and Ted have not been spotted. Neither has Rufus or a telephone booth that can travel through time. The strange thing is actually something much simpler than that.
It's logic, and it was used to make a decision that will impact the immediate future of the team and possibly longer. It appears that Dak Prescott is not going to the bench just yet. The team has announced that Prescott will start next week against the Cleveland Browns, but it sounds like he could keep the job for longer.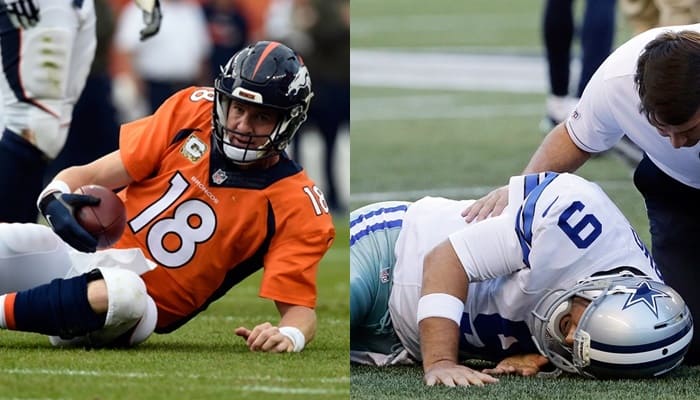 While making a local radio appearance Tuesday, Jerry Jones insinuated that Prescott could remain the starter for the foreseeable future. He didn't say it directly, of course, but it was implied when he talked about the importance chemistry plays and when he referred to Romo being ready at some point "near the end of the year."
The "end of the year" comment is important. Up to this point, Jones has been adamant about Romo returning to the field as soon as possible. There was a lot of talk about him possibly being ready to face Philadelphia and plenty more about him making his comeback against Cleveland. But now Jones is saying possibly not till the end of the year?
What gives?
Well—the answer to that could be several things. According to the rumor mill, Romo is not actually as close to being ready as the media has led us to believe; that he is a few weeks away—which would put a potential return more towards the end of the year.
Maybe Jones is trying to do the smart thing by letting Romo get 100 percent healthy before he plays again. They rushed him back last season, and we all know how that ended. Maybe Jones has learned from last year's mistake—and that's why he is willing to let the QB situation "play out."
But then there is also the chance that Jerry Jones is making the most brilliant move of his tenure as Cowboys owner—he's copying the Broncos and pulling a Peyton Manning.
Last season the Denver Broncos were forced to sit Peyton Manning because of an injury. Brock Osweiler played okay in his absence, but when Gary Kubiak pulled him in the regular season finale the offense was looking stagnant. It needed a spark—what better spark could there be then one of the greatest quarterbacks to ever play the game?
Jones has referred to going with the hot hand and not wanting to mess with the chemistry the team is enjoying right now. But what if there comes a time in the next few weeks where Dak Prescott hits the dreaded rookie wall? What if we already see the first cracks? Like the interception in the end zone Sunday night?
So what if Jones is trying to ride the hot hand (Prescott) until he cools off or hits the rookie wall, and then he inserts his own future Hall of Famer (Romo) to take the team the rest of the way?
Romo has talked about playing for a few more years, but he's old for a professional football player (36). Maybe, after years of serious injuries, he is finally starting to get concerned about his health. He's had back issues for years, and they will not just go away when he stops playing. They will take time and possibly more surgery to ultimately deal with it.
But there will be an ever-present risk of them getting worse every time he plays.
Maybe he is already having a little trouble picking up his four-year old and two-year old sons. There are few things that are worse than having to tell your kids you can't do something with them because your back hurts (or some other injury is acting up).
So maybe he wants to take care of his back before it gets worse. Maybe he wants to enjoy his post-football years–and his kids.
Instead of risking further injury by playing sooner rather than later, he is okay with sitting out until Prescott struggles and he gets as healthy as he possibly can. Then when Prescott does struggle, he steps in and saves the day.
In a perfect world, the season will end with a Super Bowl win and the 36-year old, often-injured Tony Romo can ride off into the sunset at the top of his game and with the future of his team in good hands with Prescott.