Posted on November 10, 2016, by Travis Pulver
Before the season started, this weekend's Ole Miss-Texas A&M one looked like it would be a heck of a ball game. Fast forward a few weeks into the season and while Ole Miss has had trouble putting a complete game together. Texas A&M, on the other hand, has rolled with Trevor Knight at the helm and was even named the No. 4 team in the nation in the first CFB Committee poll.
But last week, Ole Miss lost their quarterback, Chad Kelly to a season-ending injury, as did Texas A&M. So—now what? The two teams will have someone step in, and the game will be played, but what can fans expect?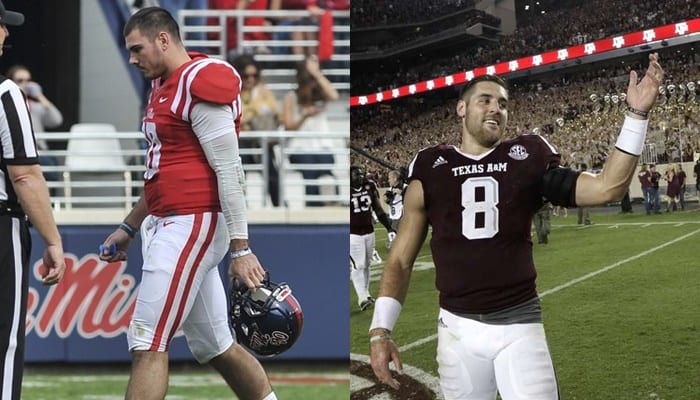 Ole Miss has one other quarterback on the roster that has played, freshman Jason Pellerin, who has only played a handful of plays (5-13 for 53 yards, two touchdowns, three interceptions). Rumor has it that Ole Miss is thinking about burning the redshirt of former five-star recruit Shea Patterson.
Ole Miss head coach Hugh Freeze has kept his plan to himself, but if he's smart, he will play anyone other than Patterson. Many probably think that Freeze should do whatever it takes to send the current seniors out with a bowl game, but what about the future of the team?
They would need to win two of their final three (Texas A&M, Vanderbilt, and Mississippi State). Is giving the team a better chance to go bowling this year in a low-level game most people will not even watch more important than having Patterson for the next three to four years? How good can he look with one week of practice as the starter?
But would the team be doing him a disservice by playing him now rather than give him the offseason to get ready for his first start next season against an easier opponent? However, if he doesn't burn Patterson's redshirt is he giving up on this season? If asked, Patterson will say he wants to play; what competitor wouldn't?
The best chance Ole Miss has with whoever ends up playing quarterback would be to focus on the run with how bad the Texas A&M defense has been gashed by the run the last few weeks.
Texas A&M's run defense is giving up an average of 197.4 yards/game (No. 89) but that number is skewed by a few good performances earlier in the season. Last week they gave up 365 yards on the ground to Mississippi State. Alabama got them for 287 and Tennessee racked up 282.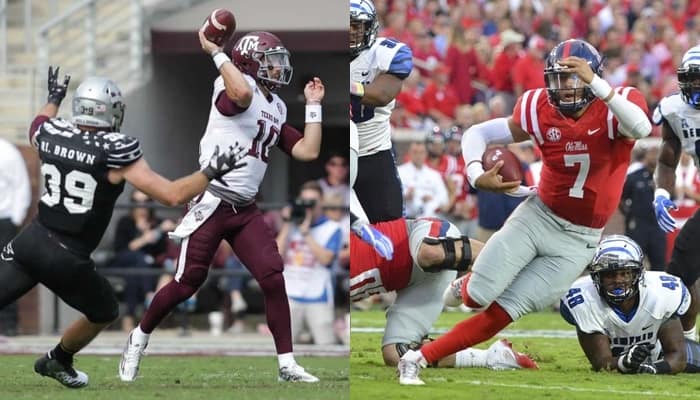 However, the Rebels run game is not strong (No. 97; 149.2 yards/game). But if they can run against the Aggies—and who hasn't—they could keep Texas A&M's new starting quarterback from finding the rhythm he needs.
Jake Hubenak started the bowl game last year after the Aggies had two quarterbacks decide to transfer. Texas A&M lost the game to a then-unknown Lamar Jackson and the Louisville Cardinals, but Hubenack wasn't bad (28-48, 307 yards, two touchdowns, and an interception). He did okay in relief of Knight last week (11-17, 222 yards, two touchdowns, and an interception) in the loss to Mississippi State.
He hasn't been spectacular for the Aggies, but he comes with a wealth of experience as a transfer from Blinn Junior College. In 2014, he threw for over 4000 yards in just eight games and had 47 touchdown passes and nine interceptions.
So–if anyone should be able to step in after one week of practice and play well it should be him. It will certainly help that the Rebels have a pretty bad defense (No. 110 overall)—especially against the run (No. 117).
Texas A&M will likely try to rejuvenate the running game Saturday. Against Arkansas and Tennessee, they ran for over 300 yards and had more than 200 against South Carolina, Auburn, UCLA, and New Mexico State. Against Mississippi State, they had only 114 (they had more against a much better Alabama defense—117).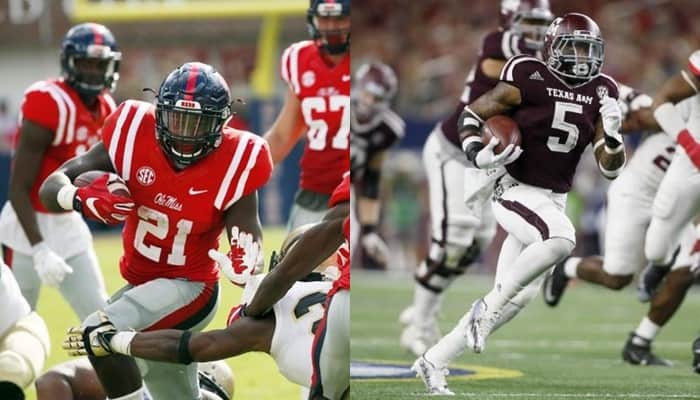 That may be easier said than done with the injuries the Aggies have suffered on the offensive line. On the same play, the Aggies lost Trevor Knight they lost starting guard Connor Lanfear.
The playoffs are likely out for the Aggies barring a few epic collapses over the next month, but they are still the No. 8 team in the nation with plenty to play for—pride and a better bowl game.