Sports Betting Michigan – Online Michigan Sports Betting Options 2021
Statewide in-person sports betting was fully legalized in Michigan towards the end of 2019, but due to the slow rolling out of retail sports betting locations, in-person sports betting didn't start until early 2021. But as of today, Michigan sports bettors are allowed to place wagers at their local sportsbook or casino. While that may appeal to some, many sports bettors are still inclined to place their daily sports wagers from the comforts and convenience of their own homes. Our team has put together a list of some online and offshore sportsbook options for those Michigan sports bettors looking for a good place to make your wagers from home.
1. BetUs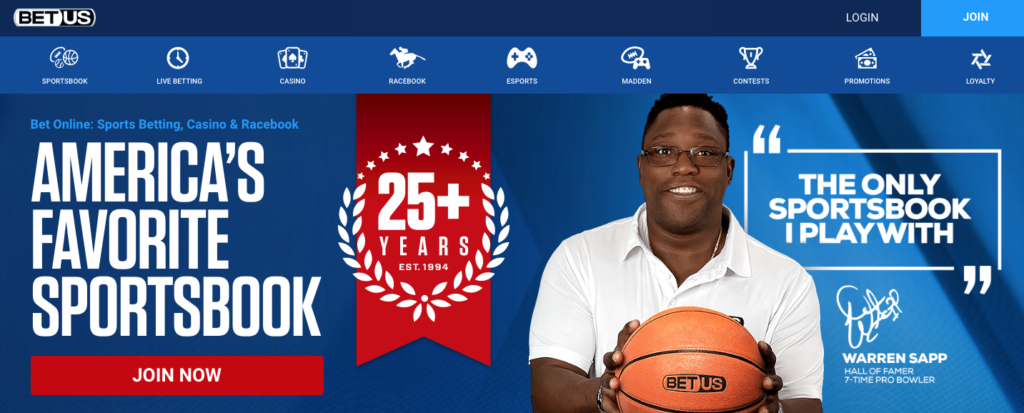 One of the longest standing online sportsbooks in the industry is BetUs, with over 25 years of service. They originated way back in 1994 and have offices and locations spread out across the US, Central America, and Canada. They also have some of the best online customer support in the whole online gaming industry. Unlike many other online sportsbooks, their customer support is 24/7 and no language barrier for US customers.
Not only do they have some of the best support in the game, they also have some of the biggest and best betting options for their players to choose from. The more betting options available means the better a player can tilt the odds in his or her favor. In addition to the betting options, they also offer every major professional sports league from around the globe, including the ever-rapidly growing industry of e-sports.
2. MyBookie

MyBookie has one of the simplest and cleanest online interfaces of any of our online sportsbook options for Michigan sports bettors. Great betting options, allowing you to wager on everything from straight side and total picks, to more complicated teasers and parlays, and everything in between. MyBookie is never short on options that they give their players to choose from.
In addition to their clean and simplified user interface that makes it very easy to place your daily wagers, they also have flawless customer support in case you have any questions. When using an offshore sportsbook, it's always important to ensure that they have flawless support and no red flags in their history of business. MyBookie is one of the more reputable options in all of the online gambling world, but especially for Michigan bettors.
3. Bovada

Starting in 2011, Bovada has quickly climbed the ranks of online sportsbooks and the online gaming industry as a whole. Being one of the newest company's on the scene, it had to do a lot right to grow in such a short timeframe to become one of the best online sportsbooks in the world. For Michigan sports bettors, there's few better options than Bovada. Started in Canada, Bovada has great english speaking customer service that US customers will love to hear. They also have other support options for those that aren't able to call in.
In addition to their great support they also give their players access to practically every major betting market from around the world. From international rugby to Korean baseball and everything in between, they give their players full access. They also combine that with offering a plethora of betting options for their customers to take advantage and it's easy to see why Bovada cracks the top 5 for more than a few states on our list.
4. BetNow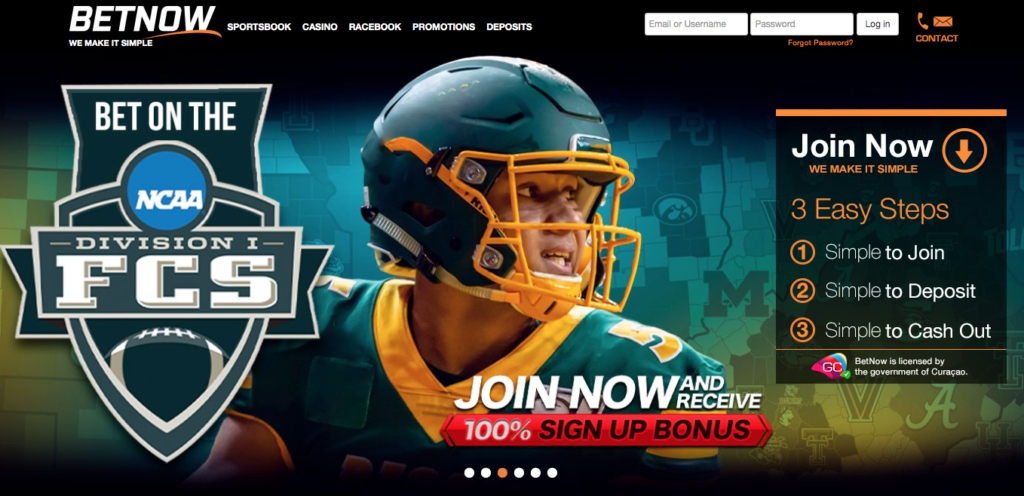 Easy to use and 100% sign up bonus for new customers are easily one of the biggest and best drawls of BetNow. That's currently the best sign up bonus available on all of our top online sportsbook choices for Michigan residence. Their user interface is very easy to figure out, which isn't so easy on a lot of the reputable competitors in the industry.
Their interface is probably their best feature but you also cannot beat that 100% sign up bonus for new customer deposits. That alone should be worth placing a few wagers to take advantage of that free bonus cash. They also have flawless customer support options for their customers around the clock 365 days a year. Not only do they have live phone options but they also have live chat for those who aren't able to phone in. They're always quick and reliable to answer any questions or troubles you may be having with your account.
5. BetOnline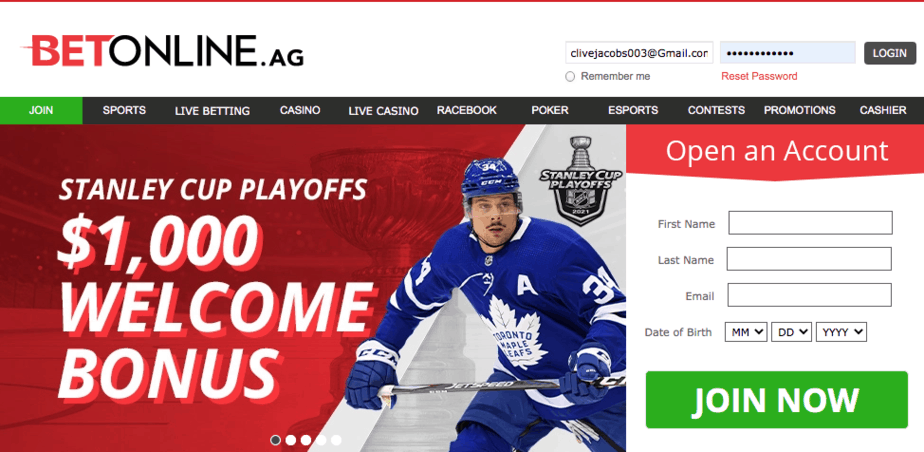 Started back in 2001 in Panama City, BetOnline is considered to be another one of the online sportsbooks with a flawless reputation and stellar online service. They currently have a stellar $1,000 first sign up bonus for the NHL Playoffs, a deal that many of you Detroit Red Wing fans mite be interested in. In addition to their amazing first time sign up promos they also offer all the traditional betting options that Michigan sports bettors could ever hope for.
Much like some of the other top options for Michigan residence such as BetUs for example, BetOnline.ag currently gives its visitors access to wagering on e-sports, in addition to the other typical major International sporting leagues from the around the rest of the world. E-Sports has especially grown practically overnight to become one of the most highly wagered on sports in the entire gaming industry, and BetOnline allows you to take advantage and bet on it.
How Do We Rank Our Sportsbooks?
There's literally thousands of online sportsbooks to choose from when choosing where to bet in Alabama. While many states have laws against sports betting, online sports wagering has long been a loophole for those living in banned states such as Alabama. We take our list very seriously and we weighed all relevant criteria in determining this ranking. Below is some of the guidelines we used when determining these specific online sportsbook recommendations.
1. Fast and Easy Payouts
It may seem like getting your money out of an online sportbsook should be easy. After all, it's your money that you won, you should be able to withdraw it immediately. Unfortunately that's hardly ever the case with online sportsbooks and it's often a lot of back and forth to get your money. That's not the case with our top 5 selections. All of these selected online sportsbooks are very reputable and have no hassle payout systems. You may have to wait a few days for your money to clear, but there's no tricks or limits that these books impose to keep you from getting to your own winnings.
2. Number of Betting Options
Some online books limit the betting options that they provide to their customers. For example, some online books don't offer betting on E-sports or even Horse Racing. These are not the kind of sportsbooks that we recommend. An online sportsbook should give you access to practically every professional sporting league around the world. In today's global sports world, there's no excuse not to serve the entire global market and give every possible betting option available.
In addition to the sporting leagues available to wager on, we also take into account the user-interface and how easy it is to navigate the site and place a wager. Some sites can get overwhelming with all of the betting options and various leagues to wager on, but all of these sites do an exceptional job making it easy on users to place their bets.
3. Customer Service
All of these sportsbooks are located overseas, so we understand that customer service can sometimes be difficult when there is a language barrier. All of these sites are among the top rated in customer service and satisfaction. They all offer 24 hour customer service, and most also provide some Live Chat options for those that can't call internationally. In addition to general customer service we also analyze the company's reputation to see if there's any red flags or shady activity in their history. All 5 of these sportsbooks we selected are among the most reputable in the world.
Ready to Wager?
If you've done your research and are ready to place your first wager, feel free to visit one of the sites above that are approved for Alabamans, and get started on your path of sports betting. You can sign up for one to try it out, or feel free to sign up for a few of them so you can try them out and see which best fits your betting needs. Once you're setup and ready to wager, come back to SportsInformationTraders.com for all your winning sports betting information and let us help you cash in this season.
Comparing the Top 3 Michigan Online Sports Betting Sites
| | | | |
| --- | --- | --- | --- |
| Years in Service? | 27 | 5 | 10 |
| Sign Up Bonus? | 100% up to $2,500 | 100% up to $250 | 50% up to $250 |
| Reload Bonus? | 150% up to $7,500 | 25% up to $500 | N/A |
| In-Play Betting? | Yes | Yes | Yes |
| Online Casino? | Yes | Yes | Yes |
| Phone Support? | Yes | Yes | Yes |
| Live Chat? | Yes | Yes | Yes |
What Areas of Michigan Wager on Sports the Most?

According to the Google Trends for sports betting searches in the state of Michigan over the last year, much of their sports betting interest came from Traverse City. With Lansing then Detroit in third, and Grand Rapids and Flint rounding out the top 5.
Based on the Google Trends, here's a list of the Top 5 areas in Michigan with the most sports betting interest over the last 5 years:
Lansing
Detroit
Grand Rapids
Traverse City
Flint
Where to Bet on Sports in Michigan
Michigan residents are lucky enough to have some local betting options available to them, however most of them are located around the Detroit metro area. Here's a list of the few popular, legal sportsbooks around Michigan:
| | |
| --- | --- |
| • MGM Grand Detroit | • Northville Downs |
| • Greektown Casino | • Firekeepers Casino Hotel |
Out of State Options
While there are a few local options available for Michigan bettors to get their kicks in, not everyone is close to the city of Detroit, or maybe you just prefer taking an out of state trip to do some betting. Here's a look at some of the betting laws in neighboring states…
Ohio
No current in-state sports betting locations yet.
Wisconsin
No legal in-person sports betting options.
Indiana
To the southwest of the state, Indiana does have a few legal options for Michigan sports bettors looking to get away. While there's plenty of options, the most convenient option for those of you coming from Minnesota is likely Horseshoe Hammond located in Hammond, IN:
Hammond, IN – Horseshoe Hammond
Directions from Detroit, MI:
1. Take W Jefferson Ave to M-10 N/John C. Lodge Fwy
2. Take M-14 W, I-94 W and I-90 W to US-12 E/US-20 E/US-41 S/Indianapolis Blvd in Hammond. Take exit 0 from I-90 W
3. Take Casino Center Dr to your destination
Professional Sports Teams in Michigan
| | |
| --- | --- |
| • Detroit Lions – NFL | • Detroit Pistons – NBA |
| • Detroit Red Wings – NHL | • Detroit Tigers – MLB |
Popular Michigan College Teams
| | |
| --- | --- |
| • Michigan Wolverines | • Michigan State Spartans |
Top Michigan Professional Team's Average Attendance
| TEAM | STADIUM | AVG ATTD (2019) |
| --- | --- | --- |
| • Detroit Lions – NFL | Ford Field | 61,342 |
| • Detroit Pistons – NBA | Little Caesars Arena | 16,486 |
| • Detroit Red Wings – NHL | Little Caesars Arena | 19,120 |
| • Detroit Tigers – MLB | Comerica Park | 18,767 |
Top Michigan College Team's Average Attendance
| TEAM | STADIUM | AVG ATTD (2019) |
| --- | --- | --- |
| • Michigan Wolverines – Football | Michigan Stadium | 111,459 |
| • Michigan State Spartans – Football | Spartan Stadium | 67,819 |
Michigan – Frequently Asked Questions
Yes. Sports betting was legalize in late 2019, but it took awhile for retail sportsbook locations to open. Today, the state has 5 available sportsbooks in the state, most of them located around the Detroit area.
As with much of the country, football is currently the most popular professional sport in the state of Michigan. Home to the Detroit Lions, the Michigan Wolverines, and the Michigan State Spartans.
Not only can Michigan bettors wager in person at their casinos, but you can also legally place your betting action online from home.