Sports Betting Ohio – Online Ohio Sports Betting Options 2021
Despite several pushes in recent years by Ohio lawmakers to lift the statewide ban of retail sports betting, it still hasn't passed and it's currently still illegal to wager on sports in person in the state of Ohio. However, while it may quite likely still pass sometime this year, until then we put together a list of some of the best online sportsbook options specifically picked for our Ohio sports bettors who are in need of a new online betting platform for their daily wagers.
1. BetUs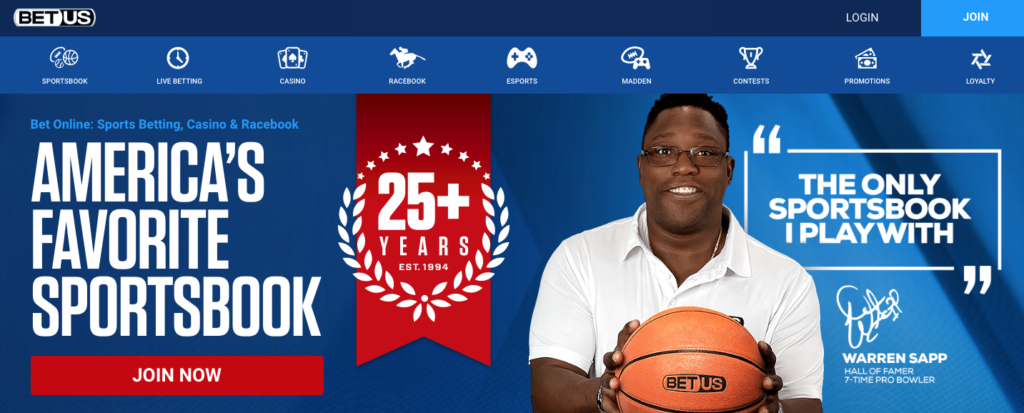 One of the most popular books on our list is also one of the most popular for all Americans, BetUs is considered one of the best of the best in the business with over 25 years of exceptional customer satisfaction and providing a high quality betting platform for their customers.
With offices located in Canada, Costa Rica, and even one in San Jose, California, you can expect BetUs to have arguably the best customer support service in all of the industry. While many online companies still outsoure their customer care to foreign call centers, BetUs will always get you in touch quickly with a representative of the company.
They also give their clients access to all of the big betting markets from Asia to Australia and the EU, and they even have added E-sports betting, which has exploded in popularity in recent years to become the fast growing sport in the world. While many books still don't offer it, BetUs is one of the first and best places for Ohio residence to place their E-sports betting action.
2. MyBookie

One of the biggest online sportsbooks in the EU is spreading to the states in a big way as MyBookie has been rapidly expanding in recent years to a more global audience. Another book with one of the easiest to use betting interfaces in the industry, MyBookie makes it very simple for players to quickly place their various betting action each day.
Also no stranger to solid sign up bonuses, they are currently offering a first time deposit bonus of up to $1,000 + $10 casino chip, instantly starting you off with more betting bankroll to work with. Take a look at their various sports betting markets they allow their customers, or also checkout their great online casino with games, or horse racing lounge with horse races from all over the country everyday… My Bookie truly has something for every Ohio sports bettor in need of a new online book.
3. Bovada

The Panama City based online book, Bovada, is one of the most reputable in the biz and it lands in at our 3rd spot for Ohio residence. Started back in 2011, it's already considered one of the most respected online books in all of the industry but especially for Ohio bettors. They give their customers access to every major American sports league, plus the rest of the major international betting markets from around the globe. On top of having a plethora of betting markets, leagues, and betting options to choose from, they also offer a solid collection of casino games such as poker and Omaha, and also live dealers and a horse racing book.
That's all great and such but they wouldn't be on our top list without some of the best and most reliable client support in the business and always are quick to answer any questions you may have. Fast, hassle free withdraws combined with great weekly special offers are just a few of the reasons that Bovada is always considered one of the best online sportsbooks for Ohio residence.
4. BetNow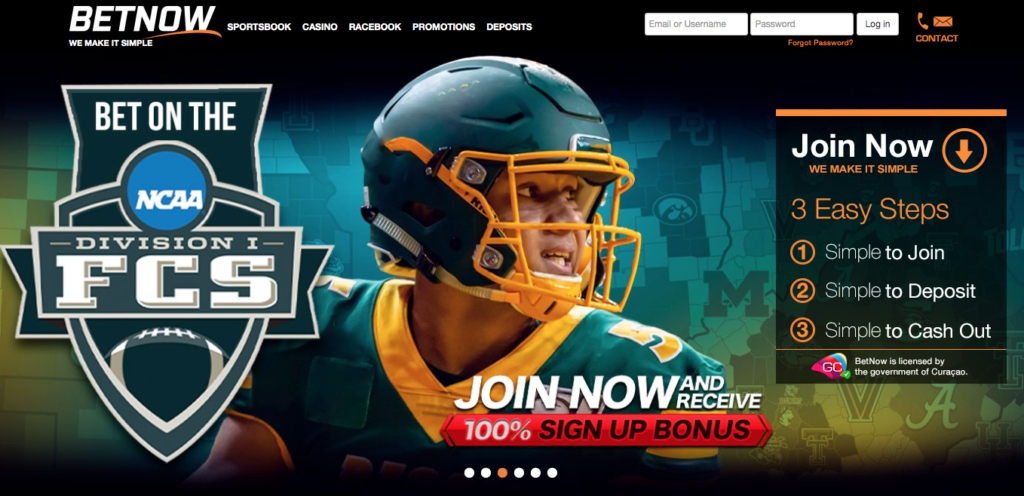 One of the top online sportsbooks in Europe, BetNow, is now also becoming one of the biggest online sportsbooks for Americans, too, and especially for Ohio residence. Their offices are still located over in Europe, but because of their rapidly growing popularity here in the states, they'll need to expand soon enough to keep up with demand. Similar to others on our list like BetUs, BetNow has an excellent and simple user-friendly betting interface for players to place their daily sports wagers. And like with the rest of our top online selections, BetNow also has the major professional sports betting leagues from around the world for its customers to wager on, as well as a horse racing book.
Fast and hassle free cash-outs combined with excellent customer service are just a few of the reasons that set BetNow apart from the rest of online books. While still many sportsbooks make it increasingly hard and tiresome for clients to cash out their hard earned winnings, BetNow makes it easy for you to get your winnings within only 7 business days.
5. BetOnline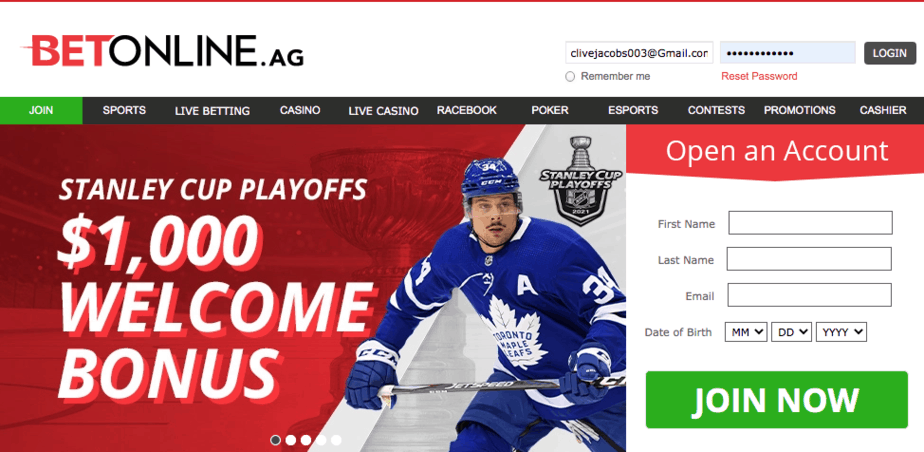 So far the best sportsbook to ever come out of Central America, Betonline was started in Panama City back in 2004, and over the last 15+ years they've established themselves as one of the most highly respected online betting platforms in the industry.
Like BetUs and Betway, BetOnline.ag is another offshore sportsbook that allows its customers to bet on e-sports leagues, as well as the other major sporting betting markets from the around the world. E-Sports has already exploded into arguably the most heavily wagered on sport in the world, and BetOnline is one of the few places you can currently wager on it.
How Do We Rank Our Sportsbooks?
Ohio residence have no shortage of betting options when shopping around for a new place to make their daily bets against the spread. While still most US states have laws banning in-person retail sports betting, Ohio residence are fortunate to have other options rather than just online. Below are some of the criteria that we used when determining our top 5 list of online sportsbook options for Ohio sports bettors.
1. Fast and Easy Payouts
It shouldn't be hard to retrieve your earnings out of your online account account, but actualliy for many, it's pretty hard and includes excessive waiting times. Many online books make it difficult on purpose in hopes that you'll continue to bet more and lose. However, that's not the case for any of our top five online sportsbook options for Ohio residence. All of our selected sportsbooks are among the most respected and have hassle free withdraw policies.
2. Number of Betting Options
Betting options are essential to the success of an online sports bettor. One of the biggest reasons and advantages you should wager online over a book is that you get access to every global betting market on Earth, which gives you more options to cash in and spread out your action. All of our top choices for Ohio bettors will give you access to dozens of professional sports betting markets from every corner of the globe.
3. Customer Service
The art of customer service, especially with online services, is a dying one. However, our team has not lost an appreciation for customer support and that's why we've graded each site with a high emphasis on their customer satisfaction and overall support. All of our top choices have various means of contact such as phone, email, live chat, and ticket support for customers, and are always quick to answer any questions or concerns you may have.
Ready to Wager?
Alright Ohio sports bettors, it's your time to cash in. You've read our detailed breakdown of the top 5 sportsbook choices for Ohio bettors, now it's time to start winning. Checkout the various current deals each online book is running to see if any strikes a chord with you, and also compare their various reload bonuses which can give you more bang for your buck on your second deposit. Once you've decided on a book and are ready to get rolling, come back to SportsInformationTraders.com for all of your winning picks against the spread and let us help you make sports a profitable investment.
Comparing the Top 3 Ohio Online Sports Betting Sites
| | | | |
| --- | --- | --- | --- |
| Years in Service? | 27 | 5 | 10 |
| Sign Up Bonus? | 100% up to $2,500 | 100% up to $250 | 50% up to $250 |
| Reload Bonus? | 150% up to $7,500 | 25% up to $500 | N/A |
| In-Play Betting? | Yes | Yes | Yes |
| Online Casino? | Yes | Yes | Yes |
| Phone Support? | Yes | Yes | Yes |
| Live Chat? | Yes | Yes | Yes |
What Areas of Ohio Wager on Sports the Most?

According to the Google Trends for sports betting searches in the state of Ohio over the last year are mostly focused around the larger cities in the state. Cleveland in the top spot, then Cincinnati, Columbus, Toledo, and Dayton finishing out the top 5.
Based on the Google Trends, here's a list of the Top 5 areas in Ohio with the most sports betting interest over the last 5 years:
Lima
Cleveland
Columbus
Zanesville
Cincinnati
Where to Bet on Sports in Ohio
With sports betting being banned throughout the state of Ohio for in-person wagering, some Ohio sports bettors may decide to travel out of town to place their wagers. For those folks who don't mind taking a long car ride, here's a look at what the surrounding states have to offer in terms of betting laws and casinos.
Out of State Options
Kentucky
No legal in-person sports betting options.
Indiana
Indiana is a state that has more than a couple betting options and casinos for people to choose from. While much of the state's betting action is in central Indiana around Indianapolis, the closest option for most Ohioans would likely be in Lawrenceburg.
Lawrenceburg, IN – Hollywood Casino Lawrenceburg
Directions from Cleveland, OH:
1. Get on I-90 W from Ontario St
2. Follow I-71 S and I-275 W to Belleview Dr in Lawrenceburg Township. Take exit 16 from I-275 S
3. Take US-50 W/E Eads Pkwy to Hollywood Blvd in Lawrenceburg
West Virginia
Another neighboring state with legal in-person retail sportsbooks in West Virginia to the east. Plenty of locations throughout the state but the closest for most Ohio sports bettors will likely be towards the west central town of Wheeling.
Wheeling, WV – Wheeling Island Hotel Casino Racetrack
Directions from Cleveland, OH:
1. Get on I-77 S from Ontario St and Orange Ave
2. Follow I-77 S to US-250 E in Union Township
3. Follow US-250 E to S Stone St in Wheeling
Professional Sports Teams in Ohio
| | |
| --- | --- |
| • Cleveland Browns – NFL | • Cincinnati Bengals – NFL |
| • Cleveland Indians – MLB | • Cincinnati Reds – MLB |
| • Cleveland Cavaliers – NBA | • Columbus Bluejackets – NHL |
Popular Ohio College Teams
| | |
| --- | --- |
| • Ohio State Buckeyes | • Akron Zips |
| • Mount Union Purple Raiders | • Bowling Green Falcons |
| • Ohio Bobcats | • Toledo Rockets |
| • Cleveland State Vikings | • Miami Redhawks |
| • Dayton Flyers | • Cincinnati Bearcats |
Top Ohio Professional Team's Average Attendance
| TEAM | STADIUM | AVG ATTD (2019) |
| --- | --- | --- |
| • Cleveland Browns – NFL | FirstEnergy Stadium | 67,431 |
| • Cincinnati Bengals – NFL | Paul Brown Stadium | 47,179 |
| • Cleveland Indians – MLB | Progressive Field | 22,008 |
| • Cincinnati Reds – MLB | Great American Ball Park | 22,329 |
| • Cleveland Cavaliers – NBA | Rocket Mortgage FieldHouse | 19,349 |
Top Ohio College Team's Average Attendance
| TEAM | STADIUM | AVG ATTD (2019) |
| --- | --- | --- |
| • Ohio State Buckeyes – Football | Ohio Stadium | 103,383 |
| • Akron Zips – Football | InfoCision Stadium – Summa Field | 17,959 |
| • Bowling Green Falcons – Football | Doyt L. Perry Stadium | 15,295 |
| • Ohio Bobcats – Football | Peden Stadium | 16,566 |
| • Toledo Rockets – Football | Glass Bowl Stadium | 20,399 |
| • Miami Redhawks – Football | Yager Stadium | 17,794 |
| • Cincinnati Bearcats – Football | Nippert Stadium | 30,519 |
Ohio – Frequently Asked Questions
No. Despite several pushes, Ohio still has laws in place against retail sportsbook establishments and casinos throughout the state.
Yes! While you're not currently able to wager on sports in person in the state of Ohio, you can currently wager on any of the authorized online sportsbook services like those listed in our Top 5 online sortsbooks for Ohio sports bettors.
While the Ohio State Buckeye football team is extremely popular throughout the state and often has sellout crowds with around 70,000 fans. They're still not as popular as the Cleveland Browns from the NFL throughout the entire state.