Posted on November 5, 2016, by Travis Pulver
Last week the Oakland Raiders set a few records. Quarterback Derek Carr joined the small fraternity of quarterbacks with 500+ yard games with 513 against the Tampa Bay Buccaneers, but they needed overtime to get the win because of another record they set—for most penalties in a single game (23). They did what matters most—won the game—but the win was far from pretty.
The win improved their record to 6-2 on the season and tied for the AFC West division lead with the defending Super Bowl champions, the Denver Broncos—who they happen to play Sunday night at home.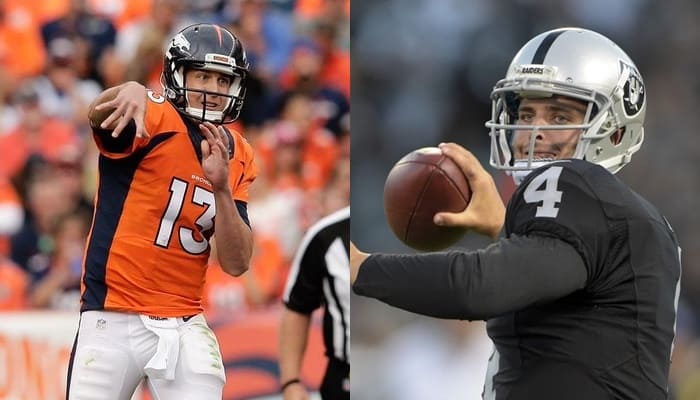 What a win could mean to the Oakland Raiders has been widely discussed in the media. After years of poor play, poor coaching, and even worse management, a win would serve as an announcement to the NFL—the Oakland Raiders are once again legitimate contenders.
Derek Carr's game has improved with every game since he was drafted, and he now leads an offense that averages 401.6 yards a game (No. 5 in the league). The defense could certainly stand to be better (No. 31), but when your offense averages 26.9 points a game, you can survive giving up 25.4 points a game (No.22).
Oakland has been winning games with some clutch play late in games and with some gutsy calls by head coach Jack Del Rio has been pulling out a lot of wins in games they would have lost last year. So far, they have only one win with a margin of victory greater than a touchdown (Week Seven's 33-16 win over Jacksonville).
However, sloppy, mistake-filled play has been what caused many of those games to be close or a need to come from behind. For example, last week they outgained Tampa Bay 626 yards to 270, yet they still needed most of an overtime period to get the win. With that much of a difference, you would have expected the game to be a blowout, but 23 penalties for 200 yards certainly helped level the playing field.
Against a better team, they would have lost. This week they happen to be playing a better squad.
You would think the defending Super Bowl champions wouldn't need a statement game, but a win would do just that for Trevor Siemian and the Denver Broncos; more so Siemian then the Broncos.
The Denver defense is playing better than ever, so they don't need any validation, but Trevor Siemian could certainly use a little. He has done an admirable job as a first-year starter, but there hasn't been a game that the Broncos have won because of him. To be fair, they haven't lost or struggled because of him either.
Trevor Siemian has played well enough to keep the job but hasn't done anything to say the job is his. Taking down the team tied for the division lead with the Broncos would certainly be a step in the right direction—and the Raiders are primed and ready to be knocked down a peg.
The Raiders have earned their 6-2 record, but could very easily have been 2-6. Two of the Raiders wins were by a single point, another by a field goal, and the overtime game—that never should have made it to overtime but since Buccaneers kicker Roberto Aguayo missed an extra point—was just by six.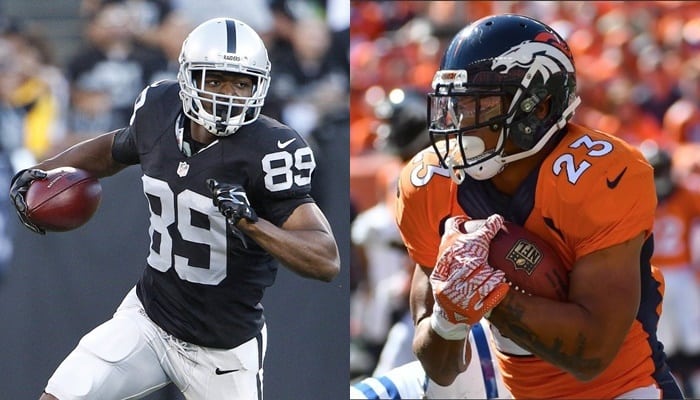 Oakland has been winning despite their mistakes against lesser opponents which makes them the perfect target for a team—and quarterback—that doesn't make mistakes to destroy them. Trevor Siemian doesn't make many mistakes, may finally have a running game in Devontae Booker, and is playing a defense that gives up 285.4 yards a game and 26.9 points.
They allow a lot of yards and a lot of points and have seven interceptions on the season. So they will give Siemian a lot of room to play in hopes that he will make a mistake they can capitalize on—which is why this is Siemian's chance for validation.
His defense will do its part–even though Aqib Talib will be out of the lineup. But will he do his? Or will Derek Carr rise to the challenge and take down the mighty Broncos?
Whatever does happen, one thing is for certain–someone is going to make a pretty big statement by the end of the night.