The Philly Godfather is considered to be one of the most reputable and renowned sports handicappers in American sports. Coming from an immigrant family and humble beginnings, Philly Godfather made his fortune solely from picking sports winners at a pace few had ever seen at the time. He is touting his picks on ESPN radio which is owned by ABC parent Disney corporation.
In the industry for over 20 years, The Philly Godfather has seen it all… Trap games, backdoor winners and losers, lock picks turned to losers. There's not much he's not prepared for and he's seen every scenario Vegas and the bookmakers can throw at him. Casinos and sportsbooks HATE him, as he's allegedly won in excess of $10 million in his career from wagering on his own sports picks, something that few handicappers are confident enough to do.
For the Philly Godfather, it's all about winning. He's so confident in his betting information and sources that he backs it up and wagers on the same picks his clients are on. Now that's the kind of guarantee that will make people take notice and to quickly build you the kind of clout it takes to become one of the most successful sports handicappers in the modern age of sports betting.
Philly Godfather Record & Twitter Account
Being a documented handicapper, The Philly Godfather releases all of his picks for the public to review, and he's hit some of the most impressive streaks in all of sports handicapping. In 2016, his bettors wagering $100 peerage WON $13,920 over the College football and NFL season. In MLB that same year, bettors wagering $100 per game won $6,780 during the regular season. You can see his comments on Twitter at https://twitter.com/phillygodfather
The Philly Godfather is no one trick pony or specialist like it seems so many handicappers are becoming. He can pick winners in all four of the major American sports, as well as their college counterparts. He hit 60% winners in the NBA during the 2016 Regular Season and 61% the year before that in the Hilton Football Contest.
Always a student of the industry and constantly trying to one-up himself, The Philly Godfather stepped up his game for the 2017 College Basketball Season and Championship Tournament by winning a documented 65% of his picks. That's as good as anyone in the world can pick College Basketball.
With another College football and NFL season upon us, The Philly Godfather is hard at work studying the lines and finding the opportunities for himself and his clients to capitalize big each night at the expense of the Vegas bookmakers. He's one of the most notoriously feared men in all of Vegas when he visits, and he's not allowed in a number of sportsbooks, and instead relies on "runners" to place his wagers for him.
Football season is here, the time to capitalize and make some easy , big money from College and Pro football is now. If you're looking to improve your sports wagers or even develop a steady source of extra income, contact The Philly Godfather today and see what his picks can do for you and your bankroll.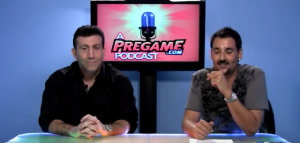 The Philly Godfather Real Name
Googles related searches think that the PreGame.com bettor is the poker player and convicted felon Stelios Maltepes. He is independent of the Greek_Gambler and the Vegas Runner and doesn't reveal his real name. RJ Bell founder and owner of PRegame.com who you can hear live on Fox Sports Radio and his handicapper The Philly Godfather live on ESPN Chicago and ESPN Los Angeles. His website is phillygodfather.com.